Grant Shapps scales back tenancy-limit plans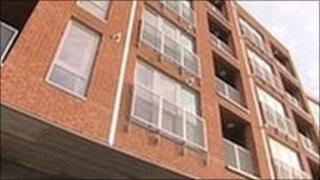 Controversial plans to end "council houses for life" in England look set to be watered down after concerns about their impact on vulnerable tenants.
Under laws passing through Parliament, social tenants could face eviction after just two years in their home.
But Housing Minister Grant Shapps has instructed regulators to ensure that the minimum period is five years in all but the most extreme circumstances.
Tenants are currently guaranteed tenure for life.
But Mr Shapps believes that can lead to families being trapped in cramped accommodation, while others live in homes that are too large for their needs.
He also believes it acts as a disincentive to social tenants to seek work and improve their income.
Market rates
Under the government's Localism Bill, due to become law later this year, social landlords will be able to evict tenants after two years.
The planned law says eviction should only be considered in exceptional circumstances - but did not state what such circumstances would be or what the alternative time limit should be.
In a letter to homeless charities and other interested parties, Mr Shapps confirms that five years will be the standard minimum time.
"We are now proposing that this expectation that tenancies of this length should only be used exceptionally should become a requirement with the Tenure Standard itself.
"If social landlords decide that there are exceptional circumstances where tenancies of less than five years may be appropriate, then they will be required to set out in their tenancy policy what those circumstances will be."
The change of policy comes as the government launches a consultation exercise on its planned shake-up of social housing, which also includes allowing landlords to charge rent at close to market rates and making it easier for tenants to swap homes.
'Positive step'
Roger Harding, Shelter's head of policy, welcomed the change to a five-year minimum but said ending lifetime tenure could still have a devastating effect on vulnerable families with children.
"While this is a positive step, we don't see it as a particularly firm base for someone to be regularly faced with prospect of eviction.
"It is far better to give someone a stable home as a base for getting them back on their feet," he told the BBC News website.
He also suggested it would be costly to administer - and questioned the wisdom of "spending a lot of time arguing about a policy that won't have any effect for 20 years because it applies to new tenants when we face an immediate affordability crisis.".
Mr Harding pointed to research undertaken in New South Wales, Australia, which suggests that far from acting as a "springboard" for people to improve their income, as Mr Shapps claims, tenants will be deterred from seeking work for fear of losing their home.
Research author Professor Suzanne Fitzpatrick, of Heriot Watt University said: "The Australian (NSW) experience calls into question the efficacy of the policy now proposed in England, given that so few of their fixed-term tenancies have been terminated, generating a negligible number of additional vacancies, but raising serious concerns about work disincentives."
A Department for Communities and Local Government spokeswoman said: "Landlords have made it clear to ministers from the start of the year that tenancies shorter than two years would only be used in exceptional circumstances.
"We have always said that in the vast majority of cases in which a social landlord offers a flexible tenancy, we would expect the tenancy would be for at least five years.
"Government plans to introduce greater flexibility on social housing tenancies remain in place, with landlords able to set contracts from a minimum two-year tenancy up to lifetime tenure, and we are now making sure that the standards landlords need to meet fully reflect that position."