When Winston Churchill delighted them on the beaches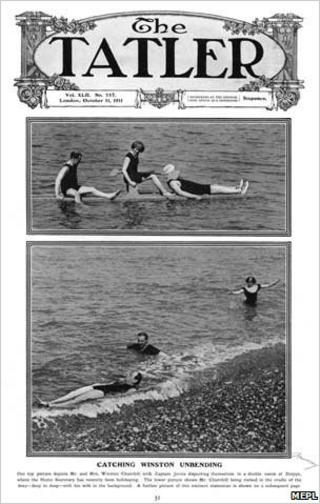 As David Cameron prepares to unwind on a summer break in Italy, he and his fellow party leaders will be hoping to avoid prying camera lenses. It was always thus, as these snatched pictures of a bathing Winston Churchill reveal.
Forget Brad and Angelina.
When it comes to selling magazines even Posh and Becks had nothing on the British power couple of 100 years ago: Win and Clem.
Later revered by many as Britain's greatest prime minister, Winston Churchill had, for a few glorious days, the most looked-at beach body in the empire.
The svelte home secretary and his wife Clementine appeared on the cover of society bible Tatler in October 1911 dressed only in their swimming costumes.
The 36-year-old politician frolicked in the waves and lazed on a canoe with his "charming" 26-year-old spouse and their friend Captain Jervis, as they holidayed in Dieppe, northern France.
Tatler boasted that its "ever-ubiquitous" photographer had been "fortunate enough" to capture them at play in the chilly waters of the Channel.
As the UK's parliamentarians prepare to get away for this year's break, current Home Secretary Theresa May will be hoping she does not suffer the same fate over the coming weeks.
Indeed, in the 24-hour media age, seclusion - not exposure - seems to be a paramount concern.
Prime Minister David Cameron has announced he will be spending two weeks away from prying eyes at a Tuscan farmhouse on a private estate, while his deputy Nick Clegg will holiday with his wife's family in Spain.
Slow exposure
Labour leader Ed Miliband is preparing to get away to an undisclosed location over the next few days, once he recovers from a nose operation.
So, why was Mr Churchill apparently so unbothered by the press attention?
Tatler noted that the Churchills were enjoying themselves "far from the madding crowd's ignoble strife".
But was there a traitor within his own crowd?
"Hand-held cameras were in common use by this time," said Colin Harding, curator of photographic technology at the National Media Museum. "They were also getting quite fast. It wasn't a case of someone with a large black cloth over their head standing there for several minutes to take a photo.
"A lot of the people in Dieppe at the time would have had cameras, so it would not have been that noticeable if someone was taking pictures on the beach.
"Magazines like Tatler, which traded in society gossip, often bought in pictures from their readers, so it's not beyond the bounds of reason that Churchill was snapped by a member of the public with a hand-held camera. It could even have been a friend or a member of his own party."
Mr Harding doubts it was a set-up by Churchill to boost his image.
"The whole point of public figures in that period was they wanted to appear responsible and respectable. Someone pictured cavorting around in the waves didn't present the right image.
"Perhaps Churchill was quite naive. A modern politician, more aware of the power of pictures, would try to appear in public while on holiday only when it suits them and in a carefully arranged way.
"If it was David Cameron in his swimsuit, the picture would be exactly as he wanted it."
'Really posh'
During the early 20th Century, Dieppe was still a fairly fashionable - but not quite "top drawer" - destination for the British upper classes.
It was only a few hours away on the ferry - not the ideal location for a peaceful getaway for someone as famous as Churchill.
However, John Walton, editor of the Journal of Tourism History, said the "culture of the paparazzi" hadn't developed then. "There weren't so many picture magazines to fill. Politicians weren't as worried about being plastered over the press as they are now.
"You didn't have people going around Europe, shooting their telephoto lenses at people."
The location perplexes Dr Walton as much as the picture.
"Dieppe at the time was quite a high-class resort but it wasn't in the same class as Biarritz, where Edward VII had been a regular visitor. That was really posh and it's where I would have expected Churchill to go."
'Painful'
There is some mockery in Tatler, perhaps a double-entendre satirising Mr Churchill's legendary desire to rise to the top of politics.
As he walks gingerly up Dieppe's pebbly beach in one picture, the caption reads: "The Climber: The Home Secretary's Painful Progress."
The 1911 Tatler remains a curiosity. It shows an era before long-distance travel was easily possible, even for the rich.
It was also a transitional time when mass photography was beginning but image manipulation and publicity management were unheard of.
Today's picture magazines focus on that modern creation: celebrities. They hardly existed 100 years ago.
"It's quite amazing really," said Dr Walton. "The equivalent today would be like Hello! magazine featuring George Osborne on the beach in Cannes as its cover."
Now there's a thought.