Boris Johnson calls for National Insurance cut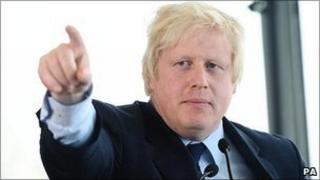 Boris Johnson has urged the government to "look at" lowering the cost of National Insurance in an effort to stimulate the economy.
The London mayor also said the 50p top rate of income tax should be abolished to allow the City to compete with its international rivals.
His comments come after official figures showed economic growth had slowed to 0.2% between March and June.
But Chancellor George Osborne said his plans to aid recovery were "on track".
Employees' National Insurance contributions rose from 11% to 12% in April.
Meanwhile, people earning over £150,000 a year pay the 50% income tax rate for all earnings above this threshold, under measures brought in by the Labour government.
'Open for business'
Speaking to the Daily Telegraph, Mr Johnson said: "You've got to look at ways of stimulating growth now, and certainly I think you should look at National Insurance. You should look at ways of stimulating consumption confidence in the market."
He said abolishing the 50p income tax rate would give a "signal that London is open for business", and make it better able to compete with other global financial centres imposing lower rates.
On Tuesday, Downing Street and the Treasury denied there were any divisions between Mr Osborne and Prime Minister David Cameron over economic strategy.
This followed reports that Mr Cameron's chief aide had "read the Riot Act" to the chancellor's staff, asking them to do more to promote growth rather than simply tackle the UK's budget deficit.
But the prime minister later said the government was working as "one team".
For Labour, shadow chancellor Ed Balls said Mr Osborne was "in denial" and blamed the VAT rise and spending cuts for slow growth.
Figures published by the Office for National Statistics on Tuesday showed the economy had expanded by 0.2% between April and June - down from 0.5% in the previous three months. That followed a shrinkage of 0.5% in the final quarter of 2010.
In his March Budget Mr Osborne said income tax and National Insurance should be merged in a "historic step" towards simplifying the UK's fiscal system.