George Osborne met News Corporation executives 16 times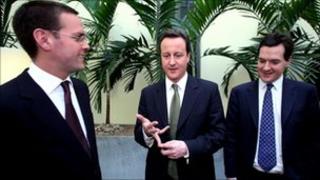 Chancellor George Osborne has had 16 separate meetings with executives from Rupert Murdoch's companies since last May's election, new data shows.
Labour leader Ed Miliband had 15 meetings or social contacts with News International executives over the same period, while PM David Cameron had 26.
Mr Cameron has ordered all ministerial meetings with media proprietors, senior editors and executives to be published.
It comes amid fears politicians have become too close to the Murdoch empire.
Mr Cameron, Mr Miliband and Deputy Prime Minister Nick Clegg had already published a list of their meetings with media executives last week.
It followed new allegations about phone hacking at the News of the World which prompted News Corporation to close the newspaper, withdraw its bid to fully take over BSkyB and the government to set up a judge-led inquiry into events.
Six dinners
On Tuesday the Cabinet Office published its quarterly list of ministers' gifts, hospitality and overseas trips - but has also included for the first time cabinet ministers' meetings with media organisations, dating back to May 2010.
Mr Osborne had 16 meetings with News Corporation executives out of a total of 54 media executive meetings, Mr Miliband had 15 meetings with the company out of 48 and Mr Cameron 26 out of 75 - including events organised by the company, like the Sun's military awards reception.
The chancellor's meetings included one with the then News International chief executive Rebekah Brooks and James Murdoch, the head of News Corp's Europe and Asia businesses, in May 2010, shortly after the general election.
He also met Rupert Murdoch separately that month and again in December 2010 in meetings described as "general discussion".
Labour MP John Mann said Mr Osborne should disclose details of what Mr Osborne talked about: "In particular we need to know the details of his December 2010 meetings and exactly what was said about the BSkyB bid."
Mr Osborne may have had more meetings with News International executives but his cabinet colleague Michael Gove appears to have had more dinners with Rupert Murdoch.
The education secretary, a former Times journalist, listed at least 13 meetings at which News International executives were present, including six meals at which Rupert Murdoch was present - twice in June this year, at the height of the phone-hacking scandal.
Mr Gove's Labour shadow, Andy Burnham, said it showed the education secretary had "got his priorities seriously wrong".
But a spokesman for Mr Gove said: "Michael worked for the BBC and News International and his wife works for News International now.
"He's known Rupert Murdoch for over a decade. He did not discuss the BSkyB deal with the Murdochs and isn't at all embarrassed about his meetings, most of which have been about education."
Culture Secretary Jeremy Hunt has met Rupert Murdoch twice socially since the general election, in May 2010 at an evening reception and Mr Murdoch was present at a speech he gave in October 2010.
He met James Murdoch, three times, Rebekah Brooks, former chief executive of News International, once and met BBC director general Mark Thompson seven times.
In December, Business Secretary Vince Cable was stripped of his powers to rule on News Corporation's bid to fully take over BSkyB - after he was recorded by undercover reporters saying he had "declared war" on Rupert Murdoch.
The responsibility was then handed to Mr Hunt - two of his meetings with James Murdoch took place the month after, in January 2011, and are described as being held to "set out the process around the proposed BSkyB/News Corp merger".
Shadow ministers
Sources close to the culture secretary say the minutes of those meetings will be published in the coming weeks.
Minutes of a meeting with media groups opposed to the News Corp bid will also be published.
Mr Cable did not meet Rupert or James Murdoch - but has listed a meeting with Times editor James Harding in his list, and a Sunday Times business lunch as well as meetings with Daily Mail editor Paul Dacre and Guardian editor Alan Rusbridger.
Justice Secretary Ken Clarke - whose plans to reduce the prison population saw him heavily criticised in the tabloid press - met only one News International executive over the year - Sun editor Dominic Mohan. But he met Daily Mail editor Paul Dacre four times, the BBC twice and ITN.
The Labour Party says it will publish a list of meetings between shadow ministers and media organisations.