Cameron says he is 100% behind Osborne growth plan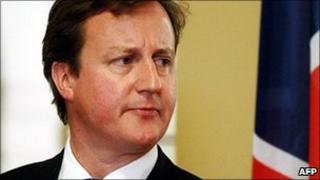 David Cameron has said he is "100%" behind his chancellor's economic plans, following reports of friction between No 10 and the Treasury.
Growth slowed to 0.2% between April and June and the Telegraph reported that there had been concerns there was too much focus on cutting the deficit.
But the PM said he and Mr Osborne were "one team" working on the same plan.
Labour's Ed Balls said Mr Osborne was "in denial" and blamed the VAT rise and spending cuts for slow growth.
Figures published by the Office for National Statistics on Tuesday show the economy slowed between April and June, with growth of 0.2% - down from 0.5% in the first three months of the year.
It follows a shrinkage of 0.5% in the final quarter of 2010.
'Positive news'
Analysts warn that one-off factors such as April's extra bank holiday for the royal wedding and the effects of the Japanese earthquake and tsunami in March could have impeded the economy.
The Daily Telegraph quotes a Whitehall source arguing that the Treasury's strategy has "been almost entirely focused on reducing the deficit, not promoting economic growth".
It also reports that David Cameron's permanent secretary, Jeremy Heywood, met Treasury officials, where he "read them the Riot Act", and that Mr Osborne is now drawing up a new package of measures for the autumn, with the prime minister's advisers giving their input.
Asked about the reports, Mr Cameron said: "Unlike previous governments, there's one team at the heart of this government - that is the chancellor and the prime minister, working together to make sure we do everything possible to get our economy growing."
He said the government was focused on cutting regulation and making it easier for businesses to start up, and to employ people: "The chancellor's growth review has the 100% backing of the prime minister and No 10 Downing Street - absolutely working together to drive that through government.
"I don't think you have seen in recent years a prime minister and chancellor working as closely together as George Osborne and I do."
The chancellor also told BBC Radio 4's World at One he and Mr Cameron were working "hand in glove" and dismissed the reports as "nonsense".
"David Cameron and I work more closely together than, I think, any prime minister and chancellor in history," he said.
'Right mix'
He said there was "positive news" in the GDP figures - saying the economy was growing, jobs being created and exports were increasing.
"But of course it is a real challenge that we face coming out of such a deep recession, such a big banking crisis, carrying the largest budget deficit of any major economy in the world," he said.
"We've got the right policy mix in place. We have got a credible deficit plan which is keeping our interest rates low, we allow our Bank of England to manage demand and we are also undertaking pro-growth policies - the cuts in business taxes, the changes to planning to encourage development, the reductions in red tape which will help us become a more balanced economy."
He said debt reduction was not holding back the economy - it provided stability and the "boost" of lower interest rates.
But shadow chancellor Ed Balls said Mr Osborne was "in denial" about the economy which had "effectively flatlined for nine months".
He told the BBC the VAT rise in January had had a "devastating impact on inflation and on confidence in the UK".
"People see George Osborne is not halving the deficit - he is getting rid of it entirely in four or five years - those spending cuts over the next few years are changing people's behaviour already... You need a balanced plan which works. I thought George Osborne's response today was breathtakingly complacent."
Commenting on reports of a spat between the Treasury and Number 10, Mr Balls told BBC News: "After two weeks of growing squabbling between No 10 and No 11 about who was to blame for phone hacking, we are now seeing No 10 and No 11 squabbling over who is responsible for the economy flatlining."
The CBI said that for the third consecutive quarter "special factors" such as the winter weather, unseasonal North Sea maintenance, the Japanese tsunami and an extra bank holiday, "have made interpretation of the data more difficult and have depressed economic activity over the short term".
CBI chief economist Ian McCafferty said: "There is likely to be some bounce back over the autumn, but it's clear that the underlying economic recovery remains fragile and difficult."
But TUC general secretary Brendan Barber said the government's economic policy was "hurting, but it isn't working".
"Ministers told us that deep rapid cuts would get the economy back on course and leave the private sector room to grow.
"But the treatment has turned out to be worse than the disease, and with the government borrowing more last month than they did a year ago they are not even tackling the deficit effectively."