Andrew Lansley letter: Pension plans 'unrealistic'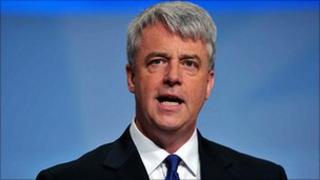 Health Secretary Andrew Lansley raised concerns about government plans to change public sector pensions in a private leaked letter, it has emerged.
He told Chief Secretary of the Treasury Danny Alexander some changes outlined to the cabinet were "unrealistic" and would hit female NHS staff hard.
The letter, leaked to the Daily Telegraph, was sent two months ago.
The Department of Health said things had since "moved on" and the government would protect the low-paid.
The government is in the process of negotiating with trade unions over plans to change public sector pensions - arguing the cost to the taxpayer is growing and they must be "sustainable" and "fair".
They have accepted the results of a review by the former Labour cabinet minister Lord Hutton, as the basis for consultation but unions are angry and some have already taken part in co-ordinated strikes, arguing that ministers will not negotiate on key areas of disagreement.
Mr Lansley's letter was written before those strikes and was apparently a response to a paper sent to cabinet minister setting out the proposals.
'Fiscal pressure'
Mr Lansley wrote: "The paper... assumes that public sector workers, many of whom are women, will work a 48-year career [to get a full pension].
"In the NHS currently, the average full-time career for those taking a pension is only 18 years and it seems unrealistic to suggest that pension scheme design should be based on the assumption that a predominantly female workforce would need to work full-time, 48-year careers in future to receive a full pension.
"It is also difficult to see how this meets our commitment to maintain gold-standard pensions."
He added: "We face a real risk, if we push too hard, of industrial action involving staff groups delivering key public services."
Mr Lansley also said the changes could prompt low-paid public sector workers to stop contributing to pensions schemes, leaving them to rely more on state benefits in retirement and giving less to the government, which will still have to meet the costs of current pensions.
He said higher-paid NHS workers might also opt out - as GPs, who pay employer and employee contributions, could choose to invest them elsewhere or take them as pay instead - increasing "fiscal pressure" on the government.
And he said the plans implied "a significant reduction in the employer contribution rate" to public sector pensions.
Mr Alexander outlined the government's case for public sector pension reform last month, making the case for public sector workers to retire later, contribute more to schemes and receive pensions based on average career earnings rather than final salary.
Trade unions have threatened national strikes in the autumn. Unison, which represents more than 400,000 NHS staff, said Mr Lansley's letter showed the proposals were "unjust, unreasonable and unworkable".
TUC general secretary Brendan Barber said: "This is a letter that could have been written by any of the union negotiators. Mr Lansley endorses almost every point the unions have made."
'Deep split'
He added that, if staff were to opt out of their pensions, it "would have the perverse consequence of making the deficit worse, as the government will still have to pay current pensions but will get no benefit from the contributions of those who leave their schemes".
Shadow work and pensions secretary Liam Byrne told the Telegraph the letter was evidence of a "deep split at the heart of government".
"People will want to know why Andrew Lansley has sat on his hands when he secretly believes that other cabinet ministers are seeking a head-on confrontation with public sector workers."
But Chancellor George Osborne said on Monday the plans would protect low-paid public sector workers, and those on middle incomes would get the same kind of pension benefit that they currently receive.
"I think what we have on the table is the basis of good-quality, defined-benefit pension schemes for the next generation - I think it's a good deal for the public sector and I think it's also a good deal for the taxpayer."
The Department of Health said things had "moved on" since the letter was written, adding: "Less than 10 days ago the whole of cabinet signed up to the need for pension reform and agreed to further talks taking place on a scheme-by-scheme basis."
"The government is committed to public service pensions remaining among the very best available.
"But people are living longer which means pensions are costing taxpayers more. So it is only fair that public service workers pay more towards them."