Phone hacking: What about George?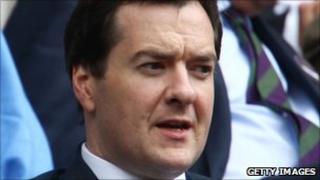 Whatever the prime minister did or didn't say in his "appropriate" conversations with the Murdochs and Rebekah Brooks about their bid to take over BSkyB, these would not have been the only ministerial chats on the subject.
The Chancellor George Osborne was, I believe, closer to the Murdochs - certainly to James - than David Cameron.
They share a mutual dislike for Gordon Brown unlike Rupert whose wife Wendi was friends with Sarah Brown and whose two daughters played together with the Browns' children.
In her evidence this week Rebekah Brooks said that it was George Osborne who, in effect, hired Andy Coulson to work for David Cameron - the chancellor all but confirmed that in his FT interview today, saying he was "the first person to approach Mr Coulson".
For days Team Osborne have been assembling a list of his meetings to publish. A decision has now been taken to incorporate them with a list of all cabinet ministers' meetings. I have been enquiring for some days when this will be.
One, in particular, will be worth looking for.
It's a dinner in New York at which Rupert Murdoch and George Osborne were both guests in the run-up to Christmas last year - that's around the very time that Vince Cable lost responsibility for the BSkyB decision.
George is, I am told, entirely relaxed about the information and has told colleagues he didn't make a special trip to the States to see Daddy Murdoch and did not discuss the BSkyB bid.
PS. One note of caution on these lists. They can conceal as much as they reveal.
At least one of the meetings between NI executives and the prime minister was a routine off-the-record journalistic briefing about policy. I know because I was at one of them along with a journalist from another media organisation.
What's more, none of these lists show the texts and calls from mobile phones which - unlike those made from office phones - are not logged or listened in to by civil servants.
Update, 11:50: I've now learned that the full list of the cabinet ministers' meetings will be published on Monday.
Update, 12:25: Although George Osborne's details are not to be published until next week I am now told that his dinner with Rupert Murdoch was before - not after - Vince Cable lost responsibility for the BSkyB bid and was not a one-on-one affair.