George Osborne urges eurozone to get a grip on crisis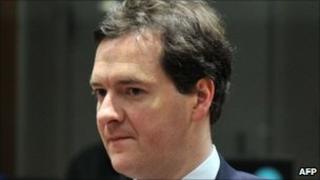 George Osborne has urged eurozone members to "get a grip" on the sovereign debt crisis plaguing Europe to prevent it spreading further.
The chancellor told the Financial Times that inaction risked economic damage on the scale of the 2008 banking crisis.
Countries using the single currency are holding a crunch meeting to discuss the Greek debt crisis and wider problems.
Nick Clegg said the crisis was not a justification for the UK to reshape its relationship with Europe.
Some Conservative and Labour MPs have called for Greece to be allowed to leave the single currency and for the current eurozone to be radically restructured.
Thursday's meeting will consider the need for a second eurozone bailout of the Greek economy - in which the UK insists it will not participate, as it is not a member of the single currency.
Amid fears of a wider "contagion", with the debt position of Italy and Spain being questioned, Germany and France said they had agreed a common position on how to handle the Greek situation.
'Very worried'
Mr Osborne, who is not attending the meeting, told the FT that while he was optimistic that the 17 eurozone members would make progress on the challenges facing them, the dangers of not doing so were considerable.
"We see the potential for a set of economic events that could be as damaging as 2008," he said.
"I am very worried. This building (The Treasury) is very worried and this government is very worried."
While not contributing to eurozone bail-outs of Greece and Portugal, the government has stressed that a stable eurozone is in the UK's interest - as 40% of the UK's trade is with Europe.
The eurozone is looking at ways for the private sector to take a bigger role in supporting Greece's debts - potentially by expanding the bail-out package to include buying Greek bonds.
No finger-pointing
Amid calls from within the eurozone for greater fiscal integration to help struggling economies, Mr Osborne said there was a "remorseless logic" to this.
He said the idea of issuing eurozone bonds was "worthy of serious consideration" but he stressed the UK would not be taking part in any eurozone financial solutions.
At a press conference on Thursday, Deputy Prime Minister Nick Clegg said there should be no "finger-pointing" in the UK about the eurozone's difficulties, as a "strong and prosperous" single currency area was vital for the country.
"We have a vital self-interest as a country in working with countries and our partners in the eurozone to make sure the problems are resolved successfully," he said.
Although the eurozone needed "comprehensive and sustainable reform", he warned those predicting its demise - who include a number of Tory MPs - that this would have "catastrophic consequences" for millions of people, including people in the UK.
While it was "no secret" his party had different views from their coalition partners on Europe, he rejected suggestions the crisis could be a catalyst for EU members to "hare off" in different directions. "Absolutely not," he said.
'More active role'
Shadow chancellor Ed Balls said the UK should be playing the role of "honest broker" in discussions about the future stability of the eurozone.
"In the same way that President Obama and the IMF have all said ... 'get this sorted out', Britain - as a member of the European Union - we should be in there, helping to broker a solution.
"I think that's what leadership is all about and we have a direct interest in that. We should be there."
And former Labour chancellor Alistair Darling said eurozone leaders needed to come up with a "convincing" response, not a short-term fix to stop the problems spreading.
"You can see a real calamity facing us," he told the BBC.
"If America has problems and starts getting down rated in relation to its credit, we have got this continuing problem in Europe and you already have got very sluggish growth in this country.
"This is going to have a real impact ... and I do think our government ought to have been playing a more active role in encouraging our partners in Europe to sort this problem out."