Murdochs hearing: A day of high drama and farce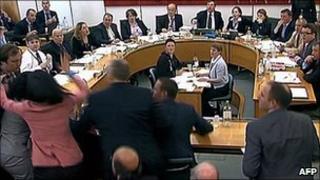 It's not every day the most powerful media mogul the world has ever seen - and his son - are hauled before a committee of mere backbench MPs.
But predictions that this would be the modern day equivalent of the stocks - with those judged to have transgressed public morals being pelted with fruit, or at least with abuse - seemed far fetched as James Murdoch, very smoothly, and Rupert Murdoch, at times monosyllabically - adopted the strong defensive shield of ignorance and regret.
Murdoch Sr had got off to a shaky start. We knew he was 80, but he seemed more frail - and certainly more human - than the figure of legend.
Not so much a titan before whom all must tremble, as an elderly man on a day trip to the coast, mistakenly arrested for shoplifting.
There were long pauses. He could not recall the details.
He still had an old newspaper man's knack for grabbing headlines, dramatically interrupting son James to deliver a heartfelt declaration that he had been "humbled" by the phone hacking scandal.
But under questioning from Labour MP Tom Watson - a softly-spoken Brummie - his grasp of the facts about what had gone on at the News of the World was not all it might have been.
Flashes of steel
In an organisation of 53,000 people - and with the now-defunct News of the World accounting for 1% of revenues - Murdoch and son were simply too far removed from some of the alleged dodgier practices of some of their employees, he explained.
The rest of the committee did not quite scale the forensic heights of the West Bromwich MP.
And Rupert Murdoch soon got into his stride, looking at times as if he was almost enjoying himself - although there were also flashes of the steel that has made him such a formidable figure, as he banged the table to emphasise a point.
The MPs, meanwhile, got to grips with tricky problem of how to address a father and son team.
Alan Keen went for "Mr Rupert" - striking a feudal note that can hardly have been the Labour MP's intention.
Philip Davies decided he was going to be on first name terms with the Murdochs - like David Cameron or Gordon Brown at one of Mr Murdoch's now-infamous parties.
His Tory colleague Damian Collins split the difference, addressing his questions to "Rupert Murdoch".
Mrs Murdoch
But just as those viewing proceedings from the public benches were getting restless and a little bored, they were treated to an act of theatre, if not farce, as Rupert Murdoch was accosted with the modern-day equivalent of a custard pie.
A plate of shaving foam-was pushed in his general direction by a disgruntled protestor.
The mogul's wife Wendi - sat behind him throughout and occasionally chipping in with advice and moral support - gave as good as Rupert got, stretching out to grab the "weapon" and then set about the protester.
It was a massive distraction and led to the public benches being cleared, much to chagrin of some who had travelled from as far away as Vancouver to witness it. A Commons investigation into the incident is being launched. This one might even get somewhere.
But while the Murdochs had been billed as the main event, there were some distractions of potentially much greater substance.
The Murdochs' evidence did not take the scandal close to the door of Number 10 - indeed, Rupert said he had "gone in the back way" at Downing Street to meet David Cameron after last year's election.
It had been Downing Street's idea though, not his, he said.
He had seen a lot more of Gordon Brown - their children played together and their two wives got on famously.
But at an earlier session of the home affairs committee, Assistant Commissioner John Yates said, almost en passant, that Mr Cameron's chief of staff Ed Llewellyn had rejected an offer of a briefing on phone hacking allegations published by the New York Times in September 2010.
Even as the Murdochs were being cross examined, the exchange of emails between Mr Yates and Ed Llewellyn were released by Downing Street.
Phone hacking is not referred to directly - an omission Labour claims has more to do with Andy Coulson's presence in Downing Street at the time than any desire to respect the operational decisions of the police.
Not, perhaps, a smoking gun for David Cameron - but potentially more ammunition for the Opposition than the Murdochs' select committee double act provided.
The same might also be said of the home affairs committee's somewhat overlooked second session.
While we were all transfixed by a man with a shaving foam custard pie, Keith Vaz and his panel were examining former Director of Public Prosecutions Lord Macdonald.
As an "arms length" legal adviser to News International, he had reviewed material which the company has since handed to investigating officers.
It had, he told the committee, contained evidence of serious criminal offences.
So while the Murdochs took centre stage today, perhaps more attention should have been paid to the noises off.