Phone-hacking: Dangers lurk for David Cameron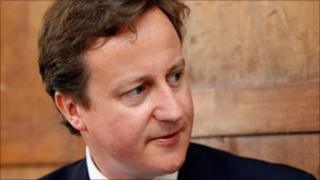 When bloodless coups come about in dictatorships, often it's when the head of government is away on a foreign visit.
But democracies bring their own dangers for absent political leaders.
If David Cameron had not trekked to Africa, he may as well have hired the vast illuminated advertising space in Piccadilly Circus and adorned it with the legend "government in crisis -official".
But no sooner had he departed than some of his own leading backbenchers were whispering that it looked like he was running away.
Chancellor George Osborne was meant to address the restless membership of the influential 1922 committee of backbench MPs on Monday, but the meeting was scrapped - with members settling for nothing less than an encounter with the prime minister himself on Wednesday.
Labour has been on the front foot, but for that very reason restlessness might not turn to revolt as the Conservatives see the logic in closing ranks.
Febrile atmosphere
But a previous Conservative prime minister, Harold Macmillan, was right to warn of the hazards of "events, dear boy".
It might not take much for some backbenchers to change their view that, grudgingly, David Cameron is an asset - to seeing him as a potential liability.
The outgoing Metropolitan Police Commissioner Sir Paul Stephenson has already taken a pop at the prime minister and may do so again at the Home Affairs Select Committee later.
When the Murdochs and Rebekah Brooks go before the culture, media and sport committee, some members will be intent on asking questions about Andy Coulson, David Cameron's former communications director, in an attempt to bring the crisis closer to the door of number 10.
Now the febrile atmosphere may dissipate.
But as David Cameron touches down on Tuesday evening, he will find that the bookies are taking bets that he will be gone -permanently - by the weekend.
Far fetched nonsense of course - but a few weeks ago the loss of the country's senior police officer, the resignation of the chief executive of a major newspaper group, the closure of the bestselling Sunday tabloid, and the death of a whistleblower in the hacking scandal would have seemed unthinkable.
So those disgruntled Tory backbenchers will be hoping the prime minister can swiftly get off the back foot.