MP Caroline Dinenage on duck islands, dads and the Krays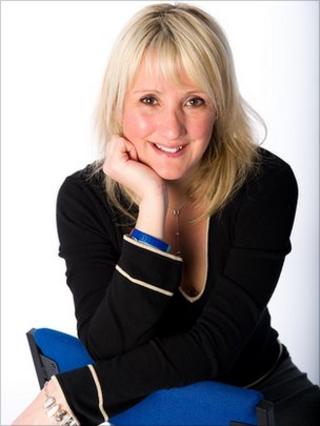 Conservative MP Caroline Dinenage talks of life with a famous father, her years as a "navy wife", duck islands and her youthful run-ins with Britain's most notorious gangsters.
As a teenager Caroline Dinenage used to answer the family phone.
Occasionally a quietly spoken man with an East End accent rang and asked if her father was in.
"Dad, it's Ronnie Kray for you," the youngster would shout along the hallway.
Or brother Reggie, depending on which of the 20th century's two most notorious British gangsters wanted a chat.
But Ms Dinenage's father was not a fellow crime overlord.
He was the TV legend who was - and is - Fred Dinenage.
Still working as a local news anchor for ITV station Meridian after more than 40 years in the business, he was also the official biographer of the Krays in the 1980s.
His daughter, the Conservative MP for Gosport since the last general election, remembers the imprisoned twins were always "very respectful" to the family and that, on one occasion, "my mum went and had tea with Ronnie".
On her father's status as "official" biographer, she added: "Well, I wouldn't want to do it behind their backs."
'Brilliant'
Like the Krays, Ms Dinenage, a 39-year-old mother-of-two, carries her surname with pride.
"I grew up with a well-known dad and I don't know what it's like not to have one. He was, and is, a brilliant dad."
In fact his name comes up in the strangest of circumstances.
Mr Dinenage is the former presenter of the ITV children's show How, which ran from the mid-1960s to the early 1980s.
It taught practical science skills, using everyday objects like plastic bottles, string and potato peelings.
"I was speaking to [fellow Tory MP] Nadine Dorries the other day," Ms Dinenage said. "She said she hadn't realised that Fred was my dad. She also told me that he had taught her how to mix flour with water to make pasta. That was quite strange."
As a parliamentary candidate Ms Dinenage became a public figure in her own right, largely because of Gosport's unwanted connection with the parliamentary expenses scandal.
Her predecessor Sir Peter Viggers was the MP who famously claimed reimbursement for a "duck island".
'High-profile'
"He was the pin-up boy for the expenses stuff, potentially a bit unfairly," Ms Dinenage said. "It's very sad that, after 36 years of service, that's what he's remembered for."
After Sir Peter decided not to run again, Gosport was one of two places in the country where the Conservatives held a US-style "open primary", inviting all constituents, of whatever political affiliation, to complete a postal ballot to pick their favourite candidate.
Ms Dinenage won, beating a London-based venture capitalist James Bethell into second place.
"Undoubtedly the name-recognition was helpful, but I'd also stood before for Parliament, in Portsmouth South. It wasn't just that I was the daughter of Fred Dinenage," she said.
At the 2010 election itself, Ms Dinenage increased the Tory majority in Gosport by almost 9,000 to 14,413.
"Lots of people said they had chosen me already and that they were going to vote for me in the election. The primary helped in that it gave me more name and face recognition. It was such a high-profile event in the local media.
"I think that I spoke to about 10,000 people altogether too while I was campaigning."
The inevitable jokes which come her way on the doorstep are laughed off - water off an MP's back, one might say.
'Not easy'
"Local people are fantastic. Sometimes you get them saying 'How' [the catchphrase, as well as the title, of her father's old show]. And you get a lot of more contemporary remarks from people, like 'Have you got a duck island yet?"
Ms Dinenage, who previously served as a councillor in Winchester, runs a company that makes name badges for staff at large firms, including Harvester and Network Rail.
She is a self-described "navy wife" - a common role for residents of Gosport, one of the great centres of British seafaring.
In fact, she estimates her husband has been away at sea for six or seven of their 10 years of marriage.
"We managed the childcare through a combination of professional and family help, but it's not been easy."
What does dad make of her new career?
"He's very proud of what I've done, even though he's interviewed loads of politicians, which has given him a healthy disrespect for people from all parties.
"He gets very emotional about all this. When he came up to London for my maiden speech, he and my mum didn't speak all the way home in case one of them cried."
So what gets Ms Dinenage all misty-eyed, if not the Krays or lonely nights with a husband at sea?
"I've always been a fan of Portsmouth Football Club. They've been through some bad times. I've shed more tears over that team than any man in my life," she said.