MP Gordon Marsden on beaches, Obama and being a "saint"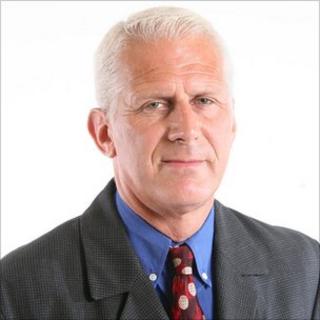 Historian and Labour MP Gordon Marsden describes his love of coastal resorts, recalls a chat with Barack Obama and reveals why he is not comfortable being called a "saint".
Gordon Marsden has always liked to be beside the seaside.
Labour's MP for Blackpool South, who also has a house in Brighton, is a lifelong fan of the bracing walks and brassy days out offered by British coastal resorts.
One of the 57-year-old's fondest childhood memories is of his mother's prowess in the amusement arcade.
"I was born and brought up in Manchester. I got taken to Blackpool on holiday in the 1960s and 1970s," he said.
"Mum used to be really good at using those grabbing machines they have where, if you can operate the claw properly, you win a prize."
Laden with cuddly toys and other spoils of mother's frequent successes, the working-class family's time in Blackpool was a rare chance for leisure.
'Explosion'
Trips to the Fylde coast are no longer so relaxing.
Fourteen years ago, Mr Marsden, an Oxford-educated historian, was elected as one of the MPs for Blackpool, which has some of the most deprived wards in England.
He brings something of his previous careers as an Open University lecturer and editor of History Today magazine to describing the resort's predicament.
"Historically seaside towns prospered with an enormous explosion of travel by working-class people, the majority of it in the Victorian era and into the 20th Century.
"In Blackpool a whole street of guesthouses would be taken over by workers from one factory for part of the summer.
"But that's all disappeared, with the rise of more foreign travel and other alternatives.
"[Former US Secretary of State] Dean Acheson once said Britain had lost an empire and still needed to find a role. The British seaside is in a similar position."
During Mr Marsden's 14 years in Parliament, Blackpool and other resorts have gained a reputation among some as run-down frontier towns, dominated by boozy hen and stag dos.
"A minority of people who come to the town behave badly," Mr Marsden said. "The decision we need to make is how you keep Blackpool as vibrant as it has been for 100 years, but also to recognise the needs of families.
"It's about delivering quality. It's how you can continue a tradition of being brash and lively without being tacky. It's possible, as you can see in Las Vegas.
"Blackpool is never going to be Worthing. If you want to go to Worthing, go to Worthing. It's a different sort of holiday experience.
"What Blackpool has in spades is history and heritage. We are doing good things."
Mr Marsden was angry when, under Tony Blair's Labour government, Manchester, rather than Blackpool, was awarded a "super casino", designed to stimulate economic growth.
'Dusting ourselves down'
He campaigned against the decision. However, this all became irrelevant when Gordon Brown dropped the whole super-casino idea in 2007.
Other plans to lure in tourists have since taken over.
One is the Comedy Carpet, featuring catchphrases from some of the great acts to perform in the town over the years - such as Ken Dodd and Morecambe and Wise.
This is part of the development of the headland by Blackpool Tower into an area capable of hosting large festivals.
The historic Winter Gardens theatre and entertainment venue - home to many party conferences over the years - is also being refurbished.
Blackpool Football Club even made it to the Premier League in 2010, albeit for just one year.
"Throughout the whole history of Blackpool, we have always been adept at dusting ourselves down and doing something else," Mr Marsden said.
'My gosh'
At Westminster, Mr Marsden is keen to promote historical understanding, applauding Parliament's efforts to open itself up to the public.
"It's still perfectly possible to stage the great set-piece events, like when Obama came recently to address both houses of Parliament at the same time [in Westminster Hall].
"I was fortunate to have a word with Obama when he left. The Speaker beckoned me over and introduced me.
"Obama had done a bit in his address on the Magna Carta. So he said to me 'My gosh, I hope I got my history right.' I said 'You got it spot on, Mr President.'"
Mr Marsden becomes more diffident when discussing his role in the MPs' expenses scandal.
Rather than facing accusations of wrongdoing, unlike some colleagues, the Daily Telegraph named him as one of its "saints" for minimising his impact on the public purse.
'No strain'
Instead of claiming mortgage payments, Mr Marsden, chairman of the Seaside Towns Manifesto Group, rents a flat above his constituency office and, when working in London, commutes in from his house in Brighton.
"That's no strain," he said. "Most MPs, unless they are right in the centre, will take an hour to come in to work."
What about "sainthood"?
"You take these things with a pinch of salt. I suppose I've generally tried to be responsible with my expenses over the years. People who start acting piously find they can crash very rapidly."
Since last autumn Mr Marsden has been shadow skills minister.
"My dad was taken on as an apprentice engineer making steam engines at the age of 14," he said. "It was seen as a job for life in those days.
"But the world is speeding up and ever-changing. It's about how you adjust. There's no point going back to Hovis-land, the world that was just about left in the 1950s.
"But Labour and others have to rediscover some of that community feeling and achievement there used to be and adapt it to the modern world."
Sitting in Portcullis House, Parliament's modern metal and glass extension, as ambitious special advisers and researchers scurry between meetings, Mr Marsden's mind wanders from the confinement of Westminster to the open splendour of Blackpool's Golden Mile.
"With seaside towns there's a sense of being able to look out, " he says. "With so many visitors there's never a dull moment. It's not like being MP for Tunbridge Wells or somewhere."