Ashcroft renews criticism of Miliband aide Tom Baldwin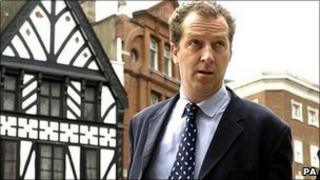 Labour's director of communications Tom Baldwin is facing renewed questions over claims he handled private information which was gained illegally during his years at the Times newspaper.
The former Conservative deputy chairman Lord Ashcroft has claimed he was the victim of "blagging" and that information about his tax affairs was gained - illegally - by a private investigator.
He claims those details subsequently "found their way into the pages of the Sunday Times".
Ashcroft has also alleged that Tom Baldwin handled what he described as "unlawfully acquired material".
In a blog posting on the website ConservativeHome, which he owns, he said: "I am not publishing documents in my possession - obtained perfectly legitimately, by the way - because I do not wish to jeopardise what I now hope will be a renewed attempt by the police to bring Mr Baldwin in front of a criminal court."
Mr Baldwin has not responded directly to the allegations that he may have been involved in illegal work carried out by a private investigator during his time as a journalist.
Last week the Labour leader Ed Miliband defended his senior advisor, saying that the party had spoken to News International, which had assured it that Mr Baldwin was never in a position to hire a private investigator.
A Labour Party source told the BBC: "This is just another attempt from the Tories' largest donor to create a diversion from David Cameron's disastrous handling of the hacking scandal.
"We will not be distracted from discussing the fundamental issues about the future of our media that Parliament is debating today."