Sunday Times rejects Gordon Brown 'criminal' claims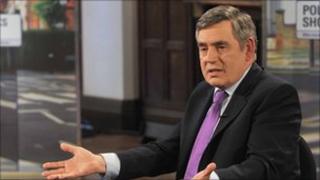 The Sunday Times has rejected criticism by former prime minister Gordon Brown that it used criminals to get access to his personal details.
The newspaper said a story it ran on a flat bought by Mr Brown had been "in the public interest" and followed the Press Complaints Commission code.
"We believe no law was broken in the process of this investigation," a spokesman said.
Mr Brown had accused the newspaper of "unlawful" and "ruthless" tactics.
Meanwhile its sister paper, the Sun, has denied any wrongdoing in a story it ran about Mr Brown's baby son having cystic fibrosis.
'Known criminals'
In a strongly worded attack on the newspaper's publisher, News International, on Wednesday, Mr Brown made a series of allegations about the Sunday Times using "known criminals" and having links to the "criminal underworld".
Mr Brown claimed his personal details were obtained for a front-page Sunday Times report that he had bought a flat owned by Robert Maxwell at a "knock-down price".
He said the newspaper had claimed the flat had never been advertised - and said the paper had been trying to prove a point "with the purpose of bringing me down as a government minister" when he was chancellor.
He alleged the newspaper had got access to his building society account and legal files through "known criminals ... hired by investigators who were working with the Sunday Times."
But the newspaper said the story had been pursued "in the public interest".
A spokesman said: "We were told that Mr Brown had bought a flat cheaper than any normal valuation and that he obtained it through a company in which Geoffrey Robinson, a close ally, had been a director," a spokesman for the newspaper said.
"We had reasonable grounds to investigate this matter and followed the Press Complaints Commission (PCC) code on using subterfuge.
"We believe no law was broken in the process of this investigation, and contrary to Mr Brown's assertion, no criminal was used and the story was published giving all sides a fair hearing."
'Not our client'
The Guardian has claimed that London lawyers Allen & Overy were tricked into handing over details from Mr Brown's file by a conman - who was later jailed for fraud in relation to a different matter.
But the law firm has denied having worked for Mr Brown, or holding personal files containing information on him. It said at the time the flat was bought, it was acting for the administrators to Robert Maxwell's private companies - and the flat was one of the assets sold.
The law firm said it was possible one of its former employees had been tricked into disclosing the valuation of the property but added: We do not, however, hold any personal legal files for Mr Gordon Brown, as he has never been a client of the firm."
The newspaper's rebuttal came after another day of pressure on News International and its senior executives amid continuing allegations of phone hacking and other malpractice at the publisher.
Meanwhile, sister paper The Sun defended the methods it used in its story in 2006 revealing that Gordon Brown's son Fraser had been diagnosed with cystic fibrosis and said it could "assure the Brown family that we did not access the medical records of their son, nor did we commission anyone to do so".
Mr Brown said he was prompted to speak out by fresh claims in The Guardian that he was targeted by News International newspapers.
Both Prime Minister David Cameron and Labour leader Ed Miliband have expressed sympathy for Mr Brown about the distress caused to him and his family by the stories.
'Empty chair'
News International is under continuing pressure despite its decision to close the News of the World amid allegations its journalists hacked the phones of murdered schoolgirl Milly Dowler and bereaved service families.
The Commons Culture Committee has asked Rupert Murdoch, his son James and News International chief executive Rebekah Brooks to appear before them next week to discuss the allegations and the internal inquiry currently taking place at the company.
News International has said it will "fully co-operate" with the committee but has not confirmed whether they will attend.
Committee member and Labour MP Tom Watson has said he does not expect the trio to attend - and planned to "empty chair" the trio if they failed to appear by calling a halt to their proceedings.
He told BBC News the committee was not interested in quizzing any other News International executives that might attend in their place.