MPs approve £9bn increase in IMF lending capacity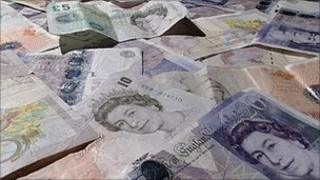 MPs have approved a proposal to make extra loans worth about £9bn available to the International Monetary Fund.
The coalition won a Commons vote by a majority of 28, despite more than 30 Conservatives defying the government.
Ministers want to increase the amount of British money the IMF can borrow from £10.7bn to £20.15bn, in line with rising contributions by other members.
They say there is little financial risk as the IMF has never defaulted on a loan made by a contributing country.
IMF funding is one of the vehicles that has been used to support eurozone members in financial trouble over the past year.
Eurozone crisis
Some MPs say the UK should not be involved in such bailouts as it does not use the single currency and believe it is wrong for the UK to raise its subscription to the IMF at a time of deep spending cutbacks at home.
Monday's parliamentary approval - by 274 votes to 246 - authorises the Treasury to make the loans.
However, the scale of opposition to the move was reflected by the fact that 32 Conservative MPs joined Labour in voting against the move.
One of the rebels, John Redwood, urged ministers to reconsider the move.
"Those in charge of the euro scheme need to get a grip," he wrote on his blog. "It is doing a great deal of financial and economic damage and they no longer seem to be in control of their project.
"The IMF should decline to bail out rich countries that have shackled themselves to a currency scheme that was badly put together and needs a thorough rethink".
Ministers argue the UK must meet its obligations to the IMF.
'Angry'
The Treasury has insisted the move will not impact on UK borrowing levels as the loans would come from existing foreign exchange reserves - on which interest is paid to the UK.
Officials have also pointed out that the move was initially agreed by the UK and other IMF members in 2009 - well before the Greek debt crisis and the Irish and Portuguese bailouts.
But UK Independence Party leader Nigel Farage said the IMF loans were "simply bailouts by the back door".
"David Cameron insists we are not bailing out Greece, yet almost doubling our IMF contributions at this time means that in reality we are.
"I believe the British people are becoming increasingly angry about this."