Chris Huhne: Energy bill rise claims are nonsense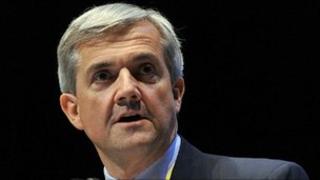 Chris Huhne has dismissed reports that the UK is facing some of the highest energy costs in Europe as "nonsense".
The Sunday Telegraph says providers are to get a higher-than-normal fixed price for electricity generated from nuclear power and wind farms, under government plans, costing consumers more.
This follows the news that British Gas is putting up domestic gas and electricity prices by 18% and 16%.
But Energy Secretary Mr Huhne said UK energy was among Europe's cheapest.
He also urged consumers to use price-comparison websites to save money.
The Sunday Telegraph reports that the incentives for energy providers to build and use more UK-based nuclear power stations and wind farms will cause electricity bills rise by 30% during the next 20 years from £493 per year to £655.
'More competition'
However, Mr Huhne told BBC One's Andrew Marr Show this was based on "rubbish" calculations, which did not take into account the eventual savings these different energy sources would bring.
He said: "We are not going to have the highest prices in Europe. That's absolute nonsense. The reality is that we have some of the lowest energy prices and we can get them even lower."
Mr Huhne said that, in France, energy prices were rising by just 3%, attributing that to a greater use of low-carbon and renewable sources, which left that country less vulnerable to international fluctuations in coal, gas and oil costs than the UK.
He added: "We've got to get off that oil and gas fuel hook. In the short run what we are trying to do is to encourage new companies into the market and more competition."
Mr Huhne, a Liberal Democrat, urged consumers to go on to energy price comparison sites "and see how much you can save", saying this could be as much as £200 a year per household.
"Switching is a really effective means of the consumer to take some power," he said.
The change to British Gas's prices, announced this week by owner Centrica, will affect nine million households with the average dual-fuel customer paying an extra £190 a year.
The company blamed the rising wholesale cost of gas, which has gone up by 30% since last winter.
The latest increase in energy bills, which is likely to be followed by other big energy suppliers, comes after a round of increases last winter which saw British Gas put its charges up by 7% in December.
In June, Scottish Power became the first of the big six energy suppliers to announce another set of price increases.
It said it would raise the cost of gas by 19% and the cost of electricity by 10% at the start of August.