GP data: Will openness mean better health outcomes?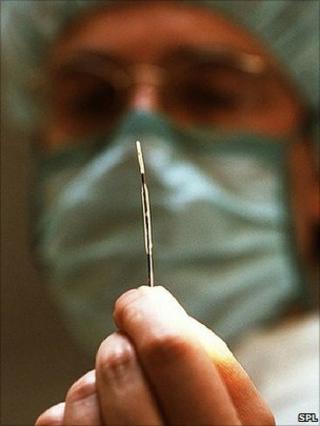 "We know nothing at all about the performance of GPs."
That was what Tim Kelsey, the Cabinet Office official overseeing the government's transparency strategy, told a conference last month.
And the government is hoping that will now change, following the announcement today of the next stage in its drive to open up state data.
The datasets to be disclosed in future include comparative clinical outcomes of GP practices in England and also their prescribing data. NHS information about hospital complaints and staff satisfaction levels will be published as well.
Anonymised statistics from the National Pupil Database will also be issued, to facilitate comparisons of pupil performance.
Data deluge
Other releases will include sentencing data from individual courts in England and state-owned transport datasets such as the national car park database.
So who will use all this information, the next downpour in the persistent data deluge that is flooding us with facts?
Not surprisingly David Cameron focuses on how it could give the public, especially parents and patients, better-informed choice in their use of public services.
He also argues that economic benefits will flow from many innovative business opportunities which could be created by the new availability of data, from travel information to medical research.
But it's the other part of his case for increased transparency that I find particularly interesting: Mr Cameron maintains that when professionals get more information about the performance of colleagues or their equivalents elsewhere, that drives a race to the top - standards are raised as everyone learns from the best.
He says this is what happened after the disclosure some years ago of survival rates following heart surgery at different hospitals.
Policy lever
This argument has also been stressed by Mr Kelsey, who founded the health information website Dr Foster before recently joining the Cabinet Office to head the transparency unit.
At the FOI Live conference last month at University College, London, he argued that in this way transparency could offer the best solution to the problem of improving performance outcomes in public services. "Open data is the most important public policy lever we have," he said.
I'm sure that at least on one point he's right.
We don't know how much attention patients will devote to looking at statistics on the clinical outcomes of various GP surgeries. But doubtless GPs themselves will scrutinise the figures carefully, compare their own records to those of other doctors, and seek to understand the reasons behind the variations.
Openness isn't just about what the people know about the state which they fund and governs their lives. It's also to do with what one part of the state knows and understands about other parts of the state.
The government hopes that, at a time of financial stringency, that will be a cheap method to improve the standard and productivity of public services.