MP rails against fake wife site on Twitter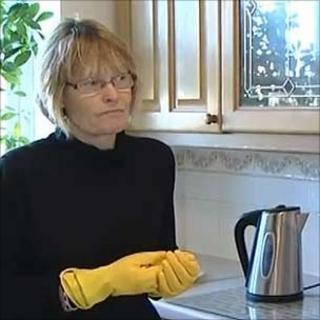 Her desires are known to all at Westminster.
Tory MP Peter Bone frequently invokes his wife Jennie as the true voice of the people, pouring forth her views on issues such as Britain's future in the EU and the economic bailout of Greece.
From the family's home in suburban Northamptonshire, geographically almost the very middle of Middle England, she wields a power to influence debate unknown to other political spouses, save perhaps Bill Clinton.
Even David Cameron listens to her views whenever they get an airing at Prime Minister's Questions, leading him on one occasion to joke that "a very big part of my life is trying to give pleasure to Mrs Bone".
But the humour could be stopping for a while. Mr Bone, a seasoned campaigner who represents the seat of Wellingborough and Rushden, has announced he is mounting a proverbial white charger and riding into battle to preserve his lady's good name.
Jennie is being impersonated on Twitter and he wants it stopped.
'Completely bogus'
While the MrsJennieBone page has all been good, clean, British fun until now, Mr Bone raised concerns in the Commons that the faker behind the scheme "could put something racist or pornographic on at any time".
He said: "Mr Speaker, I don't know if you tweet but can I direct you to the site called Mrs Jennie Bone on Twitter, which is being followed by more than 100 people, including journalists and Members of Parliament.
"It's very interesting and very amusing. There's one slight problem: it's completely bogus and this seems to me to be a really big issue, where people are taking other names and purporting [to be them]."
He called for a debate on the issue of internet impersonation.
The bogus Twitter page depicts Mrs Bone standing in her kitchen in Northamptonshire, known by its appreciators as "the rose of the shires", in true Margaret Thatcher pose.
She is shown wearing a black jumper and a pair of yellow rubber washing-up gloves, alongside the description "voice of the silent majority", and a warning: "Up with this we shall not put."
The comments posted in her name include "All eyes on PMQs - will Mr Cameron do his best to give me pleasure today? I live in hope."
'Stuffed marrow'
Another reads: "Liberal euronut bias even in Daily Mail today - is nothing sacred? EU won't bribe me with cheap phone bill."
More mundanely, one entry informs her fans: "Preparing stuffed marrow for dinner."
The identity of the satirist behind such efforts remains elusive.
Twitter has become an increasingly popular platform for politicians, including such senior figures as Foreign Secretary William Hague and Labour leader Ed Miliband.
Commons Speaker John Bercow's wife Sally is perhaps the best-known Westminster spouse to employ the social networking site.
In February she used Twitter to defuse the situation after she posed wearing nothing but a bedsheet - and with not a yellow rubber glove in sight - in the London Evening Standard.
In Parliament, House of Commons leader Sir George Young evoked laughter - and some uncomfortable memories for Mr Bercow - when he replied to Mr Bone's inquiry by saying: "Mr Speaker, you may not tweet, but I believe you know somebody who does."
However, he agreed the issue was "serious" and suggested it could be discussed during a debate on the internet to be held later this month.
The real Mrs Bone, who has previously told the BBC that her husband listens to her because she is "always right", could well have something to say on the subject too.