Taliban 'can play political role', David Cameron says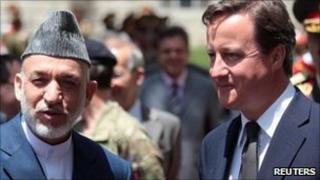 David Cameron has said members of the Taliban could have a role in the future government of Afghanistan, just as ex-militants now have in Northern Ireland.
In a joint press conference with the Afghan President Hamid Karzai in Kabul, the prime minister delivered a direct appeal to the insurgents.
"Stop fighting, put down your weapons, join the political process," he said.
Downing Street said the PM had also held "frank" talks with Mr Karzai about the need for faster political reform.
The prime minister also spoke at the press conference about the discovery of the body of a British soldier who went missing from his base in Helmand province.
He said the incident was a reminder of the "high price" the UK was paying for its involvement in Afghanistan.
'Losing this fight'
Mr Cameron's appeal to insurgents was his most direct to date.
He said: "To the Taliban, the message is very clear: Stop killing, stop bombing, stop fighting, put down your weapons, join the political process and you can be part of the future of this country.
"I have seen it in my own country, in Northern Ireland, where people who were involved in trying to kill, to maim and bomb civilians and police officers, army personnel and even politicians have actually become politicians themselves and are involved in the governance of that country.
"It can happen and the message to the Taliban is: You cannot win this fight, you are losing this fight."
On Wednesday, Mr Cameron is to formally announce a "modest reduction" in UK troop numbers in Afghanistan next year, and he used the media conference to repeat his belief that a 2015 deadline for the end of combat operations altogether was achievable.
Asked whether UK aid to Afghanistan would rise as troop numbers fell, he said: "This is a great example of a country that if we walk away from, and if we ignore, if we forget about, the problems will come visited back on our doorstep.
"Even to people who are hard-headed, and possibly even hard-hearted, about aid, I say the programme we have in Afghanistan... is good for people back home in Britain as well."
He added that aid to Afghanistan would increase as the UK moved towards its 0.7% GDP target for giving.
Mr Cameron and Mr Karzai also gave details of the Afghan National Officer Academy, which will be modelled on Britain's Sandhurst.
It will open its doors in 2013 and accept 1,350 recruits each year. Some 120 UK troops will be involved in the training.