Review of immigrants' 'right to family life'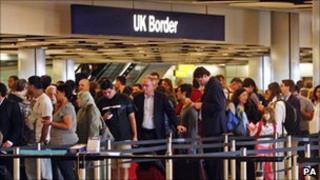 The Home Office is to review part of its immigration policy relating to the European Convention on Human Rights.
It will examine Article 8 which gives people the right to a family, but which critics say is being used by illegal immigrants to dodge deportation.
The review follows several recent court cases which ruled people could stay because their family life would be threatened if they were made to leave.
The government said the review was part of managing migration.
Critics have called Article 8 a legal loophole, used by some people with children abroad to fight deportation.
Drug dealer
BBC political correspondent Robin Brant said the review could lead to further restrictions being placed on immigrants who wish to stay or a tighter definition of the right to a family life being proposed.
In one recent case, a Burundi asylum seeker won permission to bring her children to the UK - a move not usually allowed.
The Sunday Telegraph said she was granted "indefinite leave to remain" in the UK after the Home Office lost her paperwork.
Her immigration status would not normally allow her to bring dependants, but she won that right under Article 8.
The newspaper said other similar cases include a drug dealer from the Caribbean who failed to pay child maintenance, and a Sri Lankan robber whose only claim to "family life" was having a girlfriend here.
The government announced in February that a commission, jointly chaired by Justice Secretary Ken Clarke and Deputy Prime Minister Nick Clegg, would look at whether a UK Bill of Rights could overrule the European Convention of Human Rights.
The Conservatives had wanted to replace the Human Rights Act 1998 with a UK Bill of Rights however that was opposed by their Lib Dem coalition partners.
The Conservatives have been strongly critical of the Human Rights Act - legislation which introduced into British law the principles of the 1950 European Convention on Human Rights - of which Britain was one of the authors.
It was aimed at allowing people to claim the rights enshrined in the Convention without having to go to the European Court of Human Rights in Strasbourg. These include the right to life, the right to family, freedom from torture and the right to a fair trial.
But critics say the act makes it harder for British courts to extradite criminals and has also led the recent controversies over prisoners being able to vote and sex offenders having the right to appeal to get their name removed from the sex offenders register.
A Home Office spokesman said: "We don't think these cases set any precedent. Article 8 does not give an absolute right to remain here.
"We will continue to remove those who break the rules and try to play the system.
"We are going to consult on the family route shortly and look at what requirements we should place on foreign nationals who wish to establish a family life in the UK.
"This is part of a package of reforms we are putting in place to manage migration."