Striking Commons workers feel 'let down' by Miliband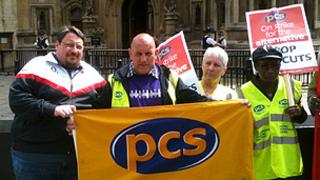 Striking workers have spoken of their "anger" at Labour leader Ed Miliband's refusal to back their walkout.
PCS union members on the picket line outside the House of Commons said the party should stand up for their rights.
Labour MP John McDonnell said public sector workers "expected more" from the Labour leader and urged Mr Miliband to listen to their concerns over pensions.
But Mr Miliband said the strikes were "wrong at a time when negotiations are still going on".
Members of three teaching unions and the PCS, which represents civil servants but has no formal links to the Labour Party, have staged a 24-hour walkout in protest at planned changes to their pensions.
Their action has been condemned by the government, which is still in negotiation with other unions over the issue, and Ed Miliband, who has attacked the coalition's handling of the dispute.
The unions that last year backed Mr Miliband's bid for the Labour Party leadership - Unite, the GMB and Unison - are not taking part in the strikes and are still in talks with the government, with the possibility of action in the autumn if the issue is not resolved.
On Wednesday, the Labour leader said his MPs would be turning up for work as normal at Parliament on Thursday.
'Leadership'
The Labour benches in the Commons had the usual number of MPs on them for a Thursday morning, suggesting most had chosen to obey their leader.
But only one entrance to the Commons had a picket line outside of it - and some Labour MPs had made a point of not crossing it.
"As the son and grandson of a miner I was brought up not to cross picket lines so I won't be," said Hywel Francis, Labour MP for Aberavon.
"We are joining the march. My son is on strike."
Mr Francis refused to criticise Mr Miliband over his decision to come out against the strikes.
"When you are in a position of leadership, you want to engage as much as possible in negotiation," he told the BBC News website.
But leading left winger Mr McDonnell said Mr Miliband should be listening more closely to the concerns of public servants.
"He needs to start meeting a few teachers, lecturers and civil servants," he said.
"They expected more and are expecting more. They want have an opportunity to explain to him why they feel so strongly about what is happening to their pensions."
And the Hayes and Harlington MP added: "I would not expect any Labour MP to cross the picket line."
'Reckless and provocative'
Kevin Smith, a Metropolitan Police civilian security worker, on the picket line outside the St Stephens entrance to Parliament, said his branch members were "angry" and "disappointed" at the Labour leader's stance.
"We are just trying to defend our hard-earned pensions. He should be supporting us."
He said some Labour MPs had crossed the picket line, but others had offered their support.
But he added: "I will certainly not be voting Labour again.
"Then again, who else am I going to vote for? I won't vote Tory or Lib Dem."
Other PCS members on the picket line also expressed their anger at Mr Miliband's refusal to back them.
But Mr Miliband, who is later addressing the Local Government Association, is standing by his decision not to get behind the striking workers.
He told BBC News: "These strikes are wrong at a time when negotiations are still going on. Parents and the public have been let down by both sides because the government has acted in a reckless and provocative manner.
"After today's disruption, I would urge both sides to put aside the rhetoric, get round the negotiating table and stop it happening again."