Francis Maude clashes with union chief over pensions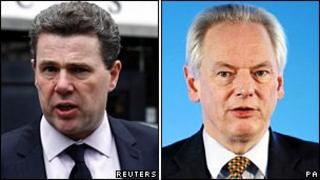 Minister Francis Maude has clashed with PCS union boss Mark Serwotka over claims public sector pensions will become "unaffordable".
Mr Maude said pensions would be unaffordable without reform but Mr Serwotka pointed to forecasts that the cost would drop as a share of GDP.
The pair clashed on BBC Radio 4's Today programme, as Mr Serwotka's union and three others went on strike.
Labour leader Ed Miliband said Mr Maude was "ignorant of the facts".
Members of the PCS and three teaching unions took part in strikes on Thursday against changes to public sector pensions - as negotiations continue between ministers and union chiefs over proposals from the Labour peer Lord Hutton, who chaired an independent review.
But unions have been annoyed by minister's claims that public sector pensions are becoming unaffordable - Prime Minister David Cameron said this week that the reason public sector pensions have to change is "because as the baby boomers retire - and thankfully live longer - the pension system is in danger of going broke".
'Reform needed'
Challenged over whether the public sector pension system would become unaffordable on BBC Radio 4's Today programme, Mr Maude said: "It will be unless we make these changes. The cost to taxpayers of supporting public sector pensions has gone up by a third - it's £32bn a year."
He said the cost to the taxpayer was going up - having already risen by a third - as people lived longer: "You cannot continue to have more and more people in retirement being supported by fewer and fewer people in work. Long-term reform is needed."
The Cabinet Office minister insisted that Lord Hutton - the former Labour cabinet minister who carried out a review of public sector pensions for the government - had said the current system was not tenable.
But Lord Hutton also said in his report that changes that had already been made to public sector pensions - including the way they were inflation linked and increased pension ages for new entrants - meant that payments were predicted to fall as a percentage of GDP - after peaking at 1.9% in 2010-11, it is expected to fall gradually to about 1.4% of GDP by 2059-60.
'Moving goalposts'
Mr Serwotka said the cost of public sector pensions would fall over the next 40 years and accused the government of, having initially claimed they were unaffordable, now trying to "move the goalposts and say they are untenable".
When the minister said there had been widespread pension reform across the private sector - Mr Serwotka accused him of revealing the "real agenda" of a "race to the bottom". He said Mr Maude was "floundering" over the details because he had "tried to mislead people".
"The costs are falling, you want people to work up to eight years longer, pay lots more money in, get less out," the union chief said.
Christine Blower, the general secretary of the NUT teachers' union, also told the BBC: "They can't have their cake and eat it. They can't say to us that they are unaffordable and then ignore the fact that the costs are set to fall."
But Chief Secretary to the Treasury Danny Alexander told the BBC later that the projected fall in the cost of pensions as a share of GDP assumed changes had taken place that the unions were protesting against - such as the change from the way pensions are uprated in line with inflation and "further reforms to deal with longevity".
"These figures actually help make the case for reform and don't support the case against it," he said.
Lord Hutton has said the predictions amounted to a "rough guess" which were not reliable because they were "susceptible to variations about economic performance, salary growth in the public sector, the size of the public sector workforce".
But Labour leader Ed Miliband said in a speech to the Local Government Association that the government's handling of the issue had been "high handed and arrogant" adding: "And, as the Cabinet Office minister Francis Maude showed this morning, ignorant of the facts as well."
The Prime Minister's official spokesman said people were getting "caught up in a semantic debate".
"There is this debate that is raging about unaffordable versus untenable. The fact of the matter is this was looked into very thoroughly by Hutton and he concluded that we needed to reform public sector pensions."
Mr Serwotka and Mr Maude also clashed over the continuing negotiations over changes - with Mr Serwotka accusing Mr Maude of having "explicitly ruled out" movement on key issues while the minister said Mr Serwotka was "writing himself out of the script" by not engaging in talks.
He accused Mr Serwotka of "selective hearing" and of making allegations which were "completely unfounded in fact".
"Mark saying there is nothing to talk about - you are calling [TUC general secretary] Brendan Barber, you are calling [Unison general secretary] Dave Prentis liars, you are saying that they're being somehow duped by us into engaging in a process which has no reality."
Mr Serwotka denied splits with other unions over the issue - he told the BBC Mr Barber had spoken at one of the strike rallies on Thursday, while Mr Prentis had written to him saying "your fight is our fight and we are fully behind you".