Ed Miliband urged to end unpaid internships in Labour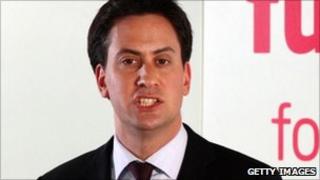 Campaigners are calling on Ed Miliband to end unpaid internships within the Labour Party after one of his MPs was criticised for recruiting a volunteer.
Intern Aware have sent a letter to him signed by the heads of Young Labour and the National Union of Students.
They said it was hard for him to "talk about social mobility with a straight face" while the practice continued.
A Labour spokesman said the party was "looking closely at this issue" in its policy review.
On Tuesday, the BBC revealed that Labour MP for West Ham Lyn Brown was advertising for a "voluntary Westminster worker" to join her office and carry out duties including policy research and dealing with constituents.
According to her official website, she has "campaigned tirelessly for a living wage for all" since her election in 2005.
Intern Aware accused her of "hypocrisy", but she told the BBC that although she would like to pay all her staff, she lacked sufficient resources. She said the volunteer would get expenses.
Internship pledge
Regarding Ms Brown's case, Labour said the recruitment of staff was a matter for individual MPs, but Intern Aware have written to Mr Miliband urging him to take a stand.
During the Labour leadership contest, he signed the group's pledge promising that if elected, he would campaign for the Minimum Wage Act to be fully enforced to cover interns.
He said he had not personally taken on any unpaid staff and had encouraged other colleagues within his party to do the same.
Mr Miliband also attended the launch party for the Speaker's Parliamentary Placements scheme, which is being set up to offer paid internships with MPs to a small number of applicants from poorer backgrounds.
Ben Lyons, co-director of Intern Aware, said: "Ed Miliband likes to talk a lot about social mobility, but now it's time for him to put that into practice.
"He says he will be fighting the next election on increasing opportunities for young people, but he doesn't need to wait until then.
"He must keep his pledge and end unpaid internships in the Labour Party. As leader, it is clearly within his powers to give instructions to MPs in his own party, and it is damaging for our democracy if the only people starting careers in politics are those who can afford to work for free."
In response to the letter, a Labour spokesman said: "Ed Miliband has made his views clear on interns.
"We are looking closely at this issue in our policy review."
'Court action'
The open letter to Mr Miliband has been signed by Susan Nash, chair of Young Labour, and Liam Burns, head of the National Union of Students.
Another signatory is Louise Haigh, the Unite union representative for MPs' staff and interns in Parliament.
She said: "I want to see interns paid the living wage but at the absolute minimum, their entitlement under law - the National Minimum Wage.
"If people are workers they should receive the NMW or MPs open themselves up to being hauled through the courts.
"The party must take a strong line on this and force its MPs to pay their workers properly and clearly differentiate between workers and volunteers."
Mr Miliband's competitors for the Labour leadership, Ed Balls, Andy Burnham and his brother David, all joined him in signing the Intern Aware pledge.