David Cameron says MPs will face same pension changes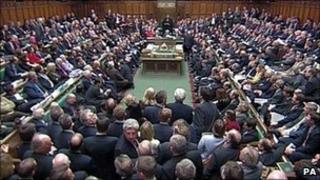 MPs should face "exactly the same changes" to their pensions as those imposed on public sector workers, David Cameron has said.
MPs have a funded final salary scheme, they pay a fixed contribution and the Exchequer is liable for the balance.
Commons Leader Sir George Young is expected to make a statement about MPs' pensions before the summer recess.
Four unions are to strike on Thursday over government proposals to change public sector pensions.
The government says the fact that people are living longer means the cost of public sector pensions has been "unsustainable" and changes have to be made.
'Contract'
They are being urged to pay more into their pensions, work for longer and accept a pension based on a "career average" salary, rather than a final salary.
MPs have their own scheme - the Parliamentary Contributory Pension Fund - a funded final salary scheme which, as of the end of March 2010, had 646 active members, 876 pensioners and 164 deferred pensioners.
At prime minister's questions on Wednesday, Conservative MP Claire Perry told Mr Cameron there was a "contract between taxpayers and MPs" when it came to pensions.
She said: "Do you agree with me that we should be in the vanguard of reforming our own pensions so we can look our public sector constituents in the face?"
Mr Cameron - who in opposition described MPs' final salary scheme as "very generous" - replied: "I agree with you that we are public sector workers as well and we should be subject to exactly the same changes we are asking others to take on.
"So the increase in contributions should apply to the MPs' system, even though it is a system where we pay in quite a lot.
"We are saying right across the board that the increase in pensions contributions is right to create a healthier, long-term system."
Higher contributions
Lord Hutton's review of public sector pensions did not include MPs' arrangements but in the March budget Chancellor George Osborne said : "I believe this House should also recommend similar changes to the pensions of MPs."
MPs contribute either 11.9%, 7.9% or 5.9% of their £65,738-a-year salaries - the normal retirement age is 65.
The Treasury has previously announced public sector staff will pay an average additional contribution of 3.2% of their salaries, phased in between 2012 and 2014.
The MPs' expenses watchdog Ipsa is due to take control of MPs' pensions from April 2012, subject to a parliamentary procedure to allow the change.
Sources have declined to say whether MPs' would have to make an additional 3.2% in contributions and whether any change would be made before or after Ipsa took control.
The 2008 valuation of the MPs' pension scheme found there was a £51m deficit, and in July 2009, MPs agreed to increase their contribution rates and cap the amount the Exchequer contributes at 28.7%.
The Exchequer contribution to the MPs' scheme is higher than "employer contributions" to other public sector pension schemes including teachers, the NHS, civil service, police and fire service schemes, according to Lord Hutton's report on pensions.
In their coalition agreement, the Conservatives and Lib Dems agreed to "consult" with the Independent Parliamentary Standards Authority (Ipsa) about "how to move away from the generous final-salary pension system for MPs".
In opposition both the Lib Dems and Conservatives called for the scheme to be reformed - Gordon Brown also ordered a review, when he was prime minister, to halt the growing cost to the taxpayer.
Last July the Senior Salaries Review Body published its report, which recommended changing parliamentary pensions from a final salary to a career average scheme, increasing the retirement age from 65 to 68 and and standardising the accrual rate at 1/60th of salary.