Pension strike: Labour MPs urged to cross picket lines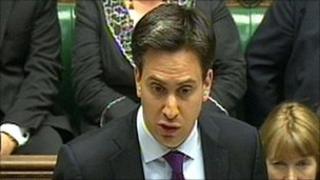 Labour MPs will be expected to cross picket lines during Thursday's public sector strike, the party has said.
A spokesman for leader Ed Miliband said Labour MPs would "come to work as normal" in Parliament despite a pension strike affecting up to 750,000 workers.
David Cameron taunted the Labour leader over the issue in the Commons, saying he could not raise it as he was "in the pocket of the unions".
Mr Miliband has criticised the strike but did not mention it at PMQs.
Asked whether Labour MPs would cross picket lines outside Parliament and other public buildings, a spokesman for the Labour leader said they "will be coming to work as normal".
The PCS Union has said some of its members who work inside Parliament, in roles such as security staff, will picket outside the building.
'Cannot talk'
On Tuesday, the Labour leader and First Minister in Wales Carwyn Jones said his cabinet ministers would not cross any picket lines but would continue with their work across Wales.
The prime minister's official spokesman said "low numbers if any" of the 200 civil servants that work at Downing Street are expected to take part in the strike.
Teachers, civil servants and other public sector workers are due to stage a one-day strike in protest at plans to raise the station pension age, raise employee contributions and link pension values to the generally lower consumer prices index (CPI) rather than the retail prices index (RPI).
Mr Cameron said there had been "not a squeak" from Mr Miliband or other Labour MPs on the issue of the strike or reforms to public sector pensions during the 30-minute weekly session of prime minister's questions.
"Clearly this is the issue that they simply don't want to talk about on the other side of the House," he said.
He added: "Because they (Labour MPs) are all paid for by the unions they cannot talk about this issue."
The prime minister said the proposed strike action was "irresponsible" as talks between ministers and unions were continuing and the government's proposals were fair to workers and fair to the taxpayer.
'Mistake'
The leader of the opposition often tends to quiz the prime minister on an issue dominating that day's headlines.
But Mr Miliband decided to use the six questions he is allotted each week to attack Mr Cameron over what he said would be a huge rise in NHS bureaucracy as a result of government reforms and the cost of making NHS staff redundant.
The Labour leader has made his views on the industrial action clear, however, saying on Tuesday it was a "mistake" and "should not go ahead" as it would inconvenience parents and children.
He has urged both sides to continue negotiations, arguing that public sector pensions do need to be reformed.
Speaking on Thursday, shadow home secretary Yvette Cooper said the strike was "premature" but the government had approached negotiations in a "confrontational" manner and workers, in their 50s, were particularly concerned that their pension plans could be "ripped up" so close to their retirement.
'Up to individuals'
Labour MP John McDonnell has called on Mr Miliband "to do what is right" and support those taking action.
Mr McDonnell, who chairs the PCS parliamentary group, said he was "disappointed" by his leader's opposition to the strike as many of those affected by the proposed pension changes were natural Labour supporters.
The GMB, which sponsors a large number of Labour MPs, said it was "up to individuals and their consciences" about whether they choose to cross picket lines.
Up to 5,000 schools in England will either close entirely or partially on Thursday and the UK Border Agency has said some travellers could face disruption at airports and other points of entry and should consider making alternative arrangements.
But the government said it had put contingency plans in place to ensure essential services are maintained.
"We will do all we can to make sure it is business as usual tomorrow and that people can continue to claim their benefits, pay their pensions and access job centre websites," Cabinet Office minister Francis Maude said.