Six peers to stand for election as next Lord Speaker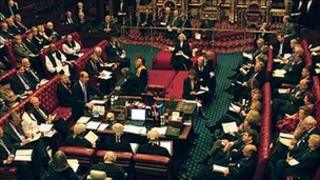 Six peers have said they will stand for election next month to become the next Speaker of the House of Lords.
Two Conservatives, one Labour, two Lib Dems and one crossbench peer will compete for the role in a ballot of all peers to be held on 13 July.
Incumbent Baroness Hayman is standing down at the end of her five-year term.
The ex-Labour minister is the first person to hold the role, which was created in 2005 but has fewer powers than the Speaker of the Commons.
The candidates who have put themselves forward are:
Lord Redesdale: Lib Dem peer who entered the House in 1991 and has been a party spokesman on international development, defence and agriculture
Lord Colwyn: Conservative hereditary peer who entered the House in 1967 and was one of 92 hereditaries elected to remain in the Lords in 1999. Currently a deputy speaker
Lord Desai: Indian-born Labour peer and economist who entered the House in 1991
Baroness D'Souza: Entered the House in 2004 and currently chairs the group of crossbench peers
Lord Goodlad: Conservative MP for 25 years and former chief whip. Became a peer in 2005
Baroness Harris of Richmond: Lib Dem former councillor who became a peer in 1999. Currently a deputy speaker
The result of the ballot, to be held under the alternative vote system, will be announced on 18 July. The new Speaker will take up the role in September after the summer recess.
Ambassador
The candidates are due to take part in a hustings in the Lords on Tuesday.
The role of Lord Speaker was created in 2005 when the Blair government trimmed the powers of the Lord Chancellor, including his historic role presiding over debates in the Lords.
Baroness Hayman chairs debates from the traditional woolsack, offers advice on procedural matters and acts as an ambassador for the work of the House.
However, her role is much more limited than that of Commons Speaker John Bercow, as she is not authorised to call members to speak, rule on points of order, select amendments to bills or to discipline members.
She was elected in 2006, beating eight other candidates.