Living wage MP Lyn Brown criticised over unpaid job
By Victoria King
BBC News, Politics reporter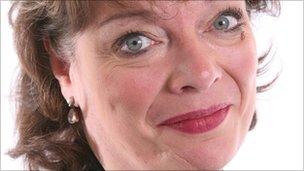 Campaigners say it is "unacceptable" that an MP who has campaigned for the living wage is recruiting an unpaid worker for her House of Commons office.
Lyn Brown, Labour MP for West Ham, is seeking a "voluntary Westminster worker" for duties including policy research and dealing with constituents.
Gus Baker, from Intern Aware, said she was guilty of "hypocrisy".
Ms Brown said she "would like to pay everyone" in her office, but "did not have the resources to do so".
The Labour Party said staffing decisions were a matter for individual MPs.
Ms Brown's official website states: "Since her election in 2005, Lyn has campaigned tirelessly for a living wage for all."
The living wage is an hourly salary rate - higher than the minimum wage - that campaigners say is necessary to allow a family to meet their basic needs.
In London - including Ms Brown's constituency - it is currently £8.30.
The job advertisement, posted on 15 June, seeks "an intelligent and enthusiastic volunteer" to work in "a busy Westminster office".
Tasks include "answering the telephone, dealing with constituent enquiries and provision of additional clerical support".
The recruit will also be "involved in policy research and the drafting of letter and press releases", and must have "excellent written and IT skills".
While the advert states that hours are "flexible", there is no time limit placed on the post and no details of any food or travel expenses offered.
A Westminster source told the BBC News website that the volunteer - who has already been recruited - will be a direct replacement for an existing, salaried staff member who is leaving for another job elsewhere.
The volunteer is already shadowing the departing member of staff so as to be able to take on all of their existing duties, the source said.
Mr Baker told the BBC it was clear from the list of requirements in the advert that Ms Brown was looking for a proper member of staff.
"It's absolutely unacceptable for MPs to replace full time, salaried workers with unpaid staff. That's the top and bottom line," he said.
"But that Lyn Brown campaigns for the living wage - and has campaigned for the minimum wage in the past - makes this a double hypocrisy.
"What I want to ask her is - how would someone in her constituency from a low income background be able to take up that opportunity?
"The answer is they couldn't, so how can she possibly justify that? It is manifestly unfair."
Ms Brown said it was not true that she was replacing a salaried staff member with an intern.
"I would like to pay everyone who volunteers for me and who is ultimately seeking a wage. The reality is that I do not have the resources to do so," she said in a statement.
"Those who come to me without a wage and seeking paid employment receive expenses and experience and invariably go on to either work in my office or find paid work elsewhere, within a six month period."
The issue of interns in Westminster has come to the fore recently after Deputy Prime Minister Nick Clegg said he wanted to ban all informal and unpaid placements.
He said the practice rewarded those with wealth and personal connections and excluded potential applicants from poorer backgrounds or from outside London.
The w4MP website currently lists several unpaid internships of varying lengths.
Among them is Conservative David Burrowes MP, who is looking for someone prepared to work full time for him for 10 months in return for food and travel expenses.
Liberal Democrat Roger Williams is looking for someone for at least three months, again expenses only.
Former Labour minister Hazel Blears has set up the Speaker's Parliamentary Placements scheme, which from September, will offer paid internships with MPs to applicants from poorer backgrounds from across the UK.
Labour leader Ed Miliband attended the launch party for the scheme, telling guests that he fully supported efforts to open up Westminster to the less well-off.
During the Labour Leadership contest, Mr Miliband also signed Intern Aware's pledge promising that if elected, he would campaign for the Minimum Wage Act to be fully enforced to cover interns.
He said he had not personally taken on any unpaid staff and had encouraged other colleagues within his party to do the same. He added that Labour would "look closely at this issue in our policy review".
Related Internet Links
The BBC is not responsible for the content of external sites.