NAHT 'strongly advises' against parent strike help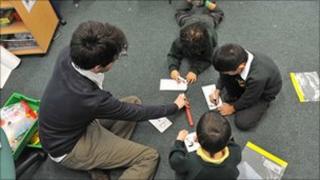 The National Association of Head Teachers has "strongly advised" heads against the use of parent volunteers to cover for striking staff on Thursday.
Education Secretary Michael Gove has backed the idea of parents helping to keep schools open in England and Wales.
But NAHT head Russell Hobby said using them instead of trained staff placed an intolerable burden of responsibility on head teachers if something went wrong.
The government said heads should look at all the options open to them.
Mr Gove has written to schools urging them to "consider the full range of local resources available to them, both from within the school staff and the wider school community to ensure that wherever possible they remain open".
Asked on the BBC's Andrew Marr Show on Sunday whether he was suggesting that parents should go in to take lessons on Thursday, he said: "Well, parents going in to help, certainly."
'Accountable'
Many parents help regularly in schools with activities such as reading, school trips or sports days.
Those who do so frequently, or who work unsupervised with children, must have had a criminal record check.
However, for infrequent volunteering, CRB checks are not required, but the volunteer must never work without supervision by a qualified member of staff.
But Mr Hobby said that even for those with the correct documentation, there were issues such as confidentiality, first aid training, safe use of equipment, behaviour management, knowledge of restraint procedures, guidance on physical contact with pupils and insurance liability to be considered.
"Head teachers are accountable for the welfare of their pupils, and to accept volunteers in place of trained staff - no matter how willing and able - would place them under an almost intolerable burden of responsibility should something go wrong," he said.
'Common sense'
Mary Bousted of the Association for Teachers and Lecturers said using parent volunteers to help non-striking teachers "was a recipe for chaos".
"It's very rich of the secretary of state to talk about teaching being a professional job, a very skilled job, and then to say anybody can come in and babymind.
"It's completely different looking after your own child or two or three children, and looking after 30 15-year-olds - or 50 15-year-olds," she said.
"In that situation, things can happen which could be deeply distressing for those parents who come in with the best intentions."
But Katy Ivens, vice-chairman of the Campaign for Real Education, said: "To suggest that parents are irresponsible people and not suitable people to care for children... is a bit of a joke."
She said that, for a few hours on one day, if the head teacher was present and taking responsibility, and some teachers were present, "common sense would dictate" that even parents who had not had CRB checks "could and should" help out.
"I haven't noticed schools being reluctant to call upon parents' help when they take children on outings," she said.
'Hide behind bureacracy'
And Keely Watson, 32, a mother of four from Rochford, Essex, said she would in principle be the first to volunteer to help non-striking teachers supervise children, although she is not available to help on Thursday.
"I am absolutely disgusted that it would come to that, but I would do it," she said.
Striking was holding people to ransom and also not giving children a good message, she said.
But she added that schools would be likely to "hide behind bureaucracy" such as the requirement for CRB checks, and reject parent volunteer help, as "it's in their best interests for the school to close for maximum effect".
Siobhan Freegard, co-founder of the Netmums social networking website, said many of its members were concerned about the idea of someone they did not know, who was not qualified, looking after their children.
Many parents were willing to help out on with school activities "but it's always in support of the teacher, as opposed to instead of the teacher", she said.
"Teachers do more than just mind the kids - they have structures, systems, lesson plans - fundamentally this is just a silly idea that could never work in practice."
'Moral duty'
But she said members were ambivalent about the strike itself.
"We want teachers to have a fair deal, but nobody really supports militancy," she said.
While some parents did not want to undermine the teachers' strike, she said, "most mums work in poorly paid jobs where they don't have an option to strike".
"There's a general feeling that it's us and our kids who pay," she said.
A spokesman for the Department for Education said Mr Gove's letter last week was "very clear that heads have a strong moral duty to pupils and parents to keep open, by drawing on all staff and the wider school community".
"Parents expect that all heads should look at all the options open to them and make the right calls so that children are safe at school, their education does not suffer;,and families are not inconvenienced."