Offender photos 'to be added to crime maps'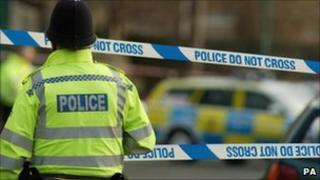 The Home Office is considering adding photographs of offenders and more details about their offences to online crime maps.
The government, confirming details in the the Sunday Times by the police minister, said the plan was to increase transparency and accountability.
It cited what it called a "trailblazing project" in West Yorkshire which identifies criminals.
Campaign group Liberty said local papers already published such details.
Policing and Criminal Justice Minister Nick Herbert said: "We want to build on the success of the police.uk crime mapping website by adding more information about how offences are actually dealt with in the criminal justice system.
"A trailblazing project is being run by West Yorkshire police to map justice outcomes.
"We are determined to increase transparency and enable the public to hold the justice system to account."
The online crime maps for England and Wales were launched in February, and allow users to see which offences have been reported in their local streets by entering a postcode or street name.
'Macho posturing'
The West Yorkshire crime maps have been going since 2005. By inputting their address, residents can see the location of any alleged offences, ranging from murder to litter dropping. It is updated monthly.
Shami Chakrabarti, from Liberty, dismissed the Home Office plan as "macho piece of posturing".
"Excuse me but haven't local newspapers being doing this for years?"
She told BBC One's The Andrew Marr Show that it was interesting that in "one of the worst recessions this country has ever faced, everybody - opposition and government - [is] posturing on law and order, often with relatively minor tweaks."
Information on the crime map website is broken down into six categories - burglary, robbery, vehicle crime, violence, other crime and anti-social behaviour. Sex crimes have been included in the "other" category, along with crimes such as theft and shoplifting, to help prevent victims from being identified.