Police want to listen to Chris Huhne tape recording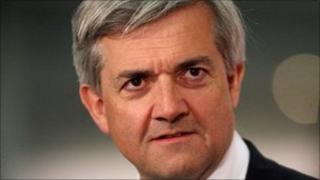 Police want a tape recording alleged to be of Energy Secretary Chris Huhne discussing a speeding incident with his estranged wife.
Essex Police launched an investigation in May into allegations the Lib Dem MP had asked Vicky Pryce to accept speeding penalty points on his behalf.
The Sunday Times says it has been ordered to hand over a tape of the conversation.
Mr Huhne says the allegations are "simply incorrect".
The paper said it was considering appealing against the order, made last week by a judge at Chelmsford Crown Court.
On the tape Mr Huhne allegedly urges his estranged wife - whom he left for another woman last year - not to talk to journalists about the speeding incident, which dates from 2003.
The pair were interviewed by police last month over the claims he persuaded her to accept a three-point penalty on his behalf in March 2003 so he could avoid a driving ban.
Both Prime Minister David Cameron and his deputy, the Lib Dem leader Nick Clegg, have denied Mr Huhne should resign.