Ed Miliband seeks to change shadow cabinet selection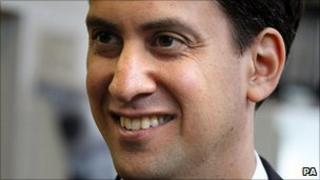 Labour leader Ed Miliband has told his MPs he wants to change the party's rules so that he can choose who sits in his shadow cabinet.
Under decades-old rules, Labour's front bench in opposition is chosen through a ballot of its MPs every two years.
Mr Miliband said that represented "a legacy of Labour's past in opposition".
The plan will be discussed by Labour MPs before being put to its ruling NEC body ahead of a vote at the party conference in Liverpool in September.
The current shadow cabinet was voted in by Labour MPs in October 2010 - a month after a previous move to have a fully appointed shadow cabinet was rejected by the Parliamentary Labour Party.
The BBC's deputy political editor James Landale said that, if approved this time, it would mark a substantial increase in Mr Miliband's power of patronage over his party.
Mr Miliband appears to have won the support of his brother, former Foreign Secretary David Miliband, who wrote on Twitter: "Well done to Ed for grasping nettle of shadow cabinet elections."
Shadow cabinet office minister Tessa Jowell told the BBC she had always backed the idea of an appointed shadow cabinet adding: "I think it will strengthen the shadow cabinet and I think it will underpin his authority."
And shadow foreign secretary Douglas Alexander told the BBC it was a "sensible change" and argued that the internal election process was a distraction from the "important task of taking the government to account and understanding why we lost the last election".
It comes ahead of a speech Mr Miliband will give to Labour's National Policy Forum on Saturday on party reform - the Parliamentary Labour Party (PLP) is due to discuss it at its meeting on Monday.
In his e-mail to Labour MPs, Mr Miliband said there would be a package of changes to make the leadership "more accountable".
It would include changing party rules so that the chairman of the PLP would be part of the shadow cabinet - to ensure backbench MPs' views were reflected - and would be able to attend political cabinets when Labour was in power.
He said: "I am proud of my shadow cabinet. But shadow cabinet elections represent a legacy of Labour's past in opposition.
"Our job must be to hold the government to account and to concentrate on preparing ourselves for the next election. We should not be distracted by internal elections where we spend time speaking to ourselves rather than the country."
But left-wing Labour MP John McDonnell said he was disappointed by Mr Miliband's proposal.
"You don't demonstrate strong leadership by having a battle with your own party," he told the BBC.
Mr McDonnell said the whole Labour party was "willing Ed Miliband to be a success" and MPs would not want to inflict a defeat on their leader.
But he said the party's rank and file wanted more democracy: "They don't want to go back to the old days of Blair."
Another Labour backbencher, Jeremy Corbyn, told the BBC it was "the wrong direction of travel".
"I do not see the need for this change, it increases the power of patronage, it reduces the accountability of the leader to Labour MPs," he said.
Shortly before Ed Miliband became leader, the Parliamentary Labour Party rejected proposals to change the shadow cabinet process, which would have enabled the leader to pick his team.
It also rejected proposals from the party's deputy leader, Harriet Harman, to make the shadow cabinet at least 50% women - instead settling for 31.5%.
In an interview with the Times on Friday, Ms Harman argues that a woman should always occupy one of the two most senior positions in the party.
She has submitted the proposal to a review of the party, headed by Peter Hain, and told the Times it would be a "historic change".
"Since 1906, we have had a leadership team of a leader and deputy," she said.
"For 99 of those years we have had a men-only leadership team. Without this rule change the likelihood is that we would slip back to a men-only leadership."
But the former Labour minister Tom Harris said the idea was "wrong" and would have barred women for standing for the leadership last year because a woman - Ms Harman - was already the deputy leader.
Ms Harman's office had said while an all-male leadership team would be unacceptable, an all-woman team would be possible if the party agreed to her suggestion. They said Labour could have a leader and two deputies, to ensure one member of the team was a woman.