Cabinet Office has to improve information performance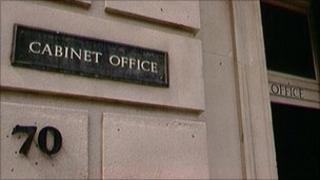 The Cabinet Office, the Ministry of Defence and Birmingham council have been forced to sign undertakings with the Information Commissioner to promise to improve the way that they handle freedom of information requests.
These are the three public authorities which have given the Information Commissioner Chris Graham most concern over their especially poor record at administering FOI.
The Cabinet Office and the MoD will be formally monitored for six months by the Commissioner's enforcement team. Birmingham council will be monitored for three months.
This is particularly embarrassing for the Cabinet Office, given it is meant to be at the heart of the government's drive towards greater public sector openness.
This fits with my own experience as an FOI requester, which is that the Cabinet Office and MoD are often less efficient and helpful than their colleagues in other government departments.
This announcement follows discussions between Mr Graham and the three authorities over the improvements necessary. He has decided for the moment not to take firmer regulatory action against them, but states he will take further steps if the changes they introduce do not result in satisfactory results.
The Information Commissioner's Office has already obtained undertakings from four other local councils - Hammersmith and Fulham, Islington, Westminster and Wolverhampton - which needed to improve their FOI performance.