Top mandarins lose battle to keep salary details secret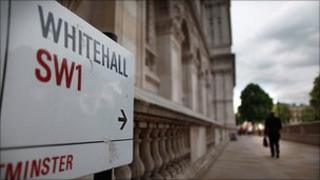 Some of the UK's top public servants have lost a battle to prevent details of their salaries being made public.
The Information Commissioner has told 24 mandarins, lawyers and quango bosses paid more than David Cameron that it was not in the "public interest" for their pay details to remain secret.
Last year ministers published a list of public sector workers paid more than £150,000.
But 24 individuals refused to allow their details to be published.
The Information Commissioner Christopher Graham ordered the disclosure following a review triggered by a BBC request under Freedom of Information laws.
'Open and transparent'
He concluded that it was "legitimate expectation" for the details to be made public given the individuals' jobs were paid for by the taxpayer.
"Being open and transparent is an integral part of being accountable to the taxpayer and, like it or not, this level of disclosure goes with the territory," he said.
"Those who receive some of the highest salaries in the public sector should expect certain information on their public or work life to be made public, including details of their remuneration."
"There is strong, legitimate public interest in the public knowing how its money is spent, how public sector salaries compare with those in other areas and how money is distributed between different levels of staff."
The Cabinet Office - which has sought to publish details of what top public sector earners are paid as part of a transparency drive - has 35 days in which to comply with the ruling or appeal against it.
But sources have suggested ministers are happy with the ruling as they believe it will improve transparency.