Cameron faces questions over home defence pledge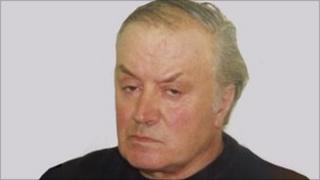 Wednesday's newspaper headlines will be dominated by David Cameron's decision to scrap controversial plans to give criminals who plead guilty at the earliest stage 50% off their jail terms.
The prime minister acknowledged, at a Downing Street news conference, that idea would have led to sentences that were "too lenient".
But he also returned to a theme he touched on in opposition - one that has occupied headline writers for more than a decade.
Remember Tony Martin?
In 1999, the Norfolk farmer shot and killed Fred Barras, 16, who, along with 29-year-old Brendan Fearon had broken in to his home, Bleak House, in Emneth Hungate, near Wisbech.
Martin was jailed for murder, and the case provoked a debate that has never really gone away: In the eyes of the law, how much force can people use when confronted by burglars in their own home?
The 2008 Criminal Justice and Immigration Act says that homeowners who use "reasonable force" to protect themselves against intruders should not be prosecuted, providing they use no more force than is absolutely necessary.
But in January 2010, David Cameron, then the leader of the Opposition, suggested changing the law made sense - both on the grounds of fairness, and saving money.
'Perfectly legitimate'
He told BBC One's Politics Show: "The reason for changing the law is people find it rather unclear what the current framework of 'reasonable force' actually means.
"One of the reasons for raising the threshold is to make sure fewer cases are taken to court, that fewer people are arrested for doing what I think is perfectly legitimate, which is to defend yourself in your own home."
He added: "The moment a burglar steps over your threshold and invades your property, with all the threat that gives to you, your family and your livelihood, I think they leave their human rights outside."
The implication then appeared clear: Providing the response of a homeowner was not grossly disproportionate, they would not find themselves facing a court themselves.
Now, 18 months on and over a year into the coalition government, the prime minister is fleshing out his outlook on the issue.
"We will put beyond doubt that homeowners and small shopkeepers who use reasonable force to defend themselves or their properties will not be prosecuted," he told reporters.
Emotive issue
But what does he mean by that?
In reality, how different would this be from how things are now?
How do you put it into law?
And is this more about grabbing a tabloid headline, given how few cases like these there actually are?
There is no reference to the prime minister's idea in the Justice Bill, because of the need for consultation on the issue first.
A spokesman for the Ministry of Justice could not add much detail, but told the BBC: "The coalition agreement contained a commitment to ensure that people have the protection they need to defend themselves from intruders, prevent crime or apprehend offenders. We will announce details of our plans shortly."
The spokesman went on to say that the law "already allows a person to use reasonable force in self defence, but we are looking at ways of clarifying the law so people are clearer about what this means in practice".
On this highly contentious and emotive issue, there remain many unanswered questions.
But 12 years on, the legacy of the Tony Martin case lives on.