Viewpoint: UK firms wake up to Brazilian opportunities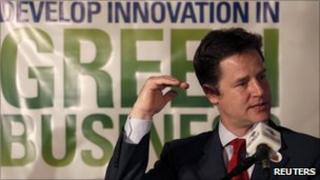 As Nick Clegg urges British business to double its exports to Brazil, Martin Raven - the UK's former Consul General in Sao Paulo - looks at the significance of his visit and the opportunities for British companies in the fast-expanding economy.
It is good news that the deputy prime minister is in Brazil with a high-level ministerial and business delegation.
This is the most senior UK visit to Brazil since April 2009 when Gordon Brown went to see then President Lula in Brasilia, followed by a visit to Sao Paulo where he joined up with Peter Mandelson and a high-level business delegation.
I was UK Consul General in Sao Paulo at the time, with the chief responsibility for promoting trade and investment between the UK and Brazil.
Although there have been several ministerial visits to this powerhouse of South America since my time there, there have also been disappointments with both Nick Clegg and William Hague cancelling visits earlier this year at short notice, which naturally disappointed the Brazilians.
British business has taken a long time to take Brazil seriously.
Although some large companies - including HSBC, Diageo, Anglo-American, Cadbury, Rolls Royce, GKN, BAT, BP, Shell and BG - have had a presence in Brazil for many years, several sectors have been ignored. Defence sales have been poor, the retail sector has been absent, and telecoms have left the field to the competition.
And that competition has done well. There are now more international German companies in Sao Paulo alone than in any individual city in Germany.
Boom years
I spent four years receiving British business visitors in Sao Paulo because my diplomatic/consular position was actually the director for UK Trade and Investment in Brazil.
Our largely local staff did a superb job helping me and my colleagues give impartial and well-researched advice on the Brazilian market.
My period coincided with a boom in the Brazilian economy, which weathered the global crisis of 2008 with hardly a pause for breath, thanks to the strength of the domestic market.
The growth in consumption, and low dependence on exports, meant that Brazil's growth continued apace while most of the rest of the world suffered. Much of this was thanks to political stability, with democracy firmly entrenched, and good fiscal management.
It was also because of the huge natural resources with which Brazil is blessed.
The statistics to demonstrate Brazil's strength are legion, but to choose only one - over 20% of the world's usable agricultural land is in Brazil.
That does not include the vast Amazon region where Brazil is trying hard to reduce deforestation but which it is certainly not planning to use for food or agricultural development. Nor has it been used to grow sugar for ethanol, where Brazil is a world leader with its unique flex-fuel engines.
Success stories
Most of my visitors were amazed at the opportunities in Brazil, and that was before the announcements of the World Cup in 2014 and Olympics in 2016.
The most common phrase I heard was "I had no idea!" Some companies made significant investments during my time there, particularly in energy and mining, but also, for example, Experian, which bought a large share of the main Brazilian credit-rating agency, a decision which has been a huge success now that the Brazilian credit market is expanding so rapidly.
The success of Lloyds of London in the reinsurance sector, which was opened up in 2009 after years of being a state-owned Brazilian monopoly, has been very gratifying.
And towards the end of my tenure, British luxury goods began to appear, such as Burberry, Aston Martin and Bentley.
We also saw an increasing number of Brazilian companies setting up in the UK, a new development because for many years Brazilian companies saw the domestic market as their main target and did not understand the mutual economic benefit from investing overseas.
All of these developments took time, however. In my four years the number of visitors and market reports increased by more than 400%.
Patience required
Getting those companies to find partners, distributors, to resolve the numerous legal and tax issues required a lot of patience. Trading with Brazil is a tough job. But it will pay off in the end.
Brazil is a country of huge contrasts, and for all the caricatures of beaches, carnival, football and violence, there is a depth and breadth in its economy which mean that UK companies have to take the market seriously.
So more high-level visits please and not exclusively promoting trade because Brazil should be a partner for the UK in so many other issues - development, climate change, peace-keeping, sport and many, many other sectors.
And I hope Nick Clegg does his bit for Brazilian exports by bringing home a pair of Havaianas - the flip flops which are such a hot fashion item these days!