Ed Miliband urges 'responsibility' on top pay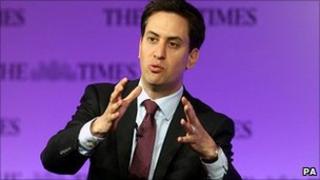 Ed Miliband has told business leaders that Labour wants a "strong relationship" with them but there must be "responsibility" on pay at the top.
The Labour leader told the Times CEO Summit in London: "I want to celebrate wealth creation in this country."
But he said there was an "issue about rewards at the top" while people on lower incomes had seen wages stagnate.
He also backed his shadow chancellor Ed Balls's call for a temporary VAT cut to help boost the economy.
But he said scrapping the 50p top rate of income tax - paid on earnings over £150,000 - was "not a priority for us".
'Celebrates enterprise'
Mr Miliband addressed an audience including News Corporation chairman Rupert Murdoch and chief executives of Goldman Sachs, Santander and Vodafone, among others.
He told assembled business leaders: "I want to signal very clearly the importance I attach to Labour having a strong relationship with you.
"New Labour brought about a number of innovations for the Labour Party. One of them I intend to keep is that strong relationship with business."
He added: "I want to celebrate wealth creation in this country. We are not going to go back to the penal tax rates of the 1970s under a future Labour government.
"That is not what we are about, because we must be a country that celebrates enterprise and rewards those who work hard and do well."
Mr Miliband said that for the system of free enterprise to command credibility, pay and performance had to be linked.
"The excesses we have seen at the top in parts of the financial services industry in the past do none of us any good.
"Just as it is right to say that those at the bottom of society should show responsibility, so it is right that those at the top show responsibility too. We have got to make sure that reward is in proportion to effort in what we do."
Leadership criticism
In recent weeks there have been newspaper reports of criticism within Labour that Mr Miliband had not been making a big enough impact as Labour leader - which he has dismissed as "tittle tattle".
Mr Miliband told the BBC last week that Labour had got its approach to the wealthy wrong during his predecessors, Gordon Brown and Tony Blair's, time in power by not stressing the responsibilities of bankers and the rich.
He has said a future Labour government would require companies to publish the pay gap between their boardrooms and the average earnings of their workers.
Meanwhile, in a speech to the Progress think tank, former Labour cabinet minister Lord Mandelson warned against Labour "infighting" and said the Labour leader was "a leader of the country, not of the party's sections and factions."
"The leadership election is over. We support Ed. No ifs and buts. He is our leader, period. We need to spend less time talking to ourselves about Ed and more time talking to the country."
Lord Mandelson also warned that Labour had to "sound and look like a genuinely national party drawn from every region and social background and not just ex-political assistants, researchers and trade union apparatchiks recruited from inside the Westminster bubble."