UK can stay in Libya as long as needed, says Cameron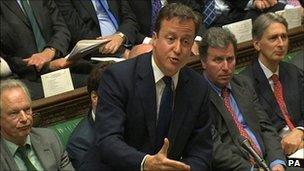 The head of the Royal Navy thinks the UK can sustain its mission in Libya for "as long as we need to", despite raising doubts earlier this week, David Cameron has said.
First Sea Lord Admiral Sir Mark Stanhope warned on Tuesday of "challenging decisions" if the mission was to last more than six months.
But the prime minister told MPs that he and Admiral Stanhope "agreed" the intervention could go on for longer.
"Time is on our side," he added.
The Nato mission - enforcing a no-fly zone over Libya to protect civilians using "all necessary measures" short of a ground invasion - began in March in response to Colonel Muammar Gaddafi's violent response to an uprising.
It was mandated by the United Nations, and led by France, Britain and the US until the end of March, when Nato took over.
Having initially been given 90 days - which would have run out on 27 June - the mission has been extended for a further 90 days.
Admiral Stanhope said on Tuesday that Britain was "comfortable" with involvement for this length of time, but added: "Beyond that, we might have to request the government to make some challenging decisions about priorities.
"If we do it longer than six months we will have to reprioritise forces. That is being addressed now. It could be from around home waters. I will not prejudge what that decision will be."
After a meeting with the prime minister on Tuesday, Admiral Stanhope appeared more positive, writing an article for Wednesday's Sun newspaper, praising the work of "your modern, flexible navy".
But, at prime minister's questions, Labour MP Mike Gapes said Admiral Stanhope's original comments had shown a need to reopen the government's Strategic Defence and Security Review, published five months before military action was taken in Libya.
The review outlined an 8% fall in defence spending over four years, with The RAF and navy losing 5,000 jobs each, the Army 7,000 and the Ministry of Defence 25,000 civilian staff.
Mr Gapes said: "The US Secretary of Defence Robert Gates has said that the Nato operation in Libya has exposed serious capability gaps.
"The First Sea Lord, Admiral (Sir) Mark Stanhope, has said that operations in Libya cannot be sustained for longer than three months without serious cuts elsewhere.
"Given those problems, isn't it time the prime minister reopened the defence review and did yet another U-turn on his failed policy?"
Mr Cameron replied: "I had a meeting with the First Sea Lord yesterday (Tuesday) and he agreed that we can sustain this mission as long as we need to.
"And those are exactly the words the Chief of the Defence Staff [General Sir David Richards] used yesterday, because we are doing the right thing.
"I want one simple message to go out from every part of this government and indeed every part of this House of Commons, and that is that time is on our side.
"We have got Nato. We've got the United Nations. We've got the Arab League. We have right on our side.
"The pressure is building militarily, diplomatically, politically and time is running out for Gaddafi."
On the call for a defence review, he pointed at the Labour front bench and said: "For 10 years they didn't have a defence review. Now they want two in a row.
"At the end of this review we have the fourth highest defence budget for any country in the world. We have superb armed forces, superbly equipped and they're doing a great job in the skies above Libya."