Police 'could lose job-for-life guarantee'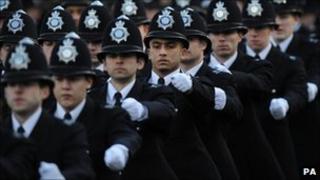 Police could be given "military-style" short-term commissions, bringing an end to the "guaranteed" right to a job for life, MPs have heard.
Tom Winsor, who is carrying out a review of pay and conditions for the government, said recruits could sign up for an "initial term of five years".
He added that a "fundamental" change in the structure of policing was possible.
Cuts to funding have caused anger among officers, with a mass march set to take place in London next month.
The coalition's Spending Review, published last autumn, reduced central government funding to police in England and Wales by 20% over five years.
The chief inspector of constabulary warned earlier this year that some forces faced a "big challenge" to make cuts without losing frontline officers.
The Association of Chief Police Officers has estimated that 28,000 police jobs will go over the next four years - 12,000 front-line officers and 16,000 civilian staff.
'Better off'
Mr Winsor, the former rail regulator, told the Commons home affairs committee that his proposals, aimed at helping to make possible more than £1bn of savings across England and Wales, would create "losers and winners".
He said: "Some will lose money but 60% of police officers will actually be better off as a result of the recommendations in my review if they are implemented."
He added: "It is conceptually possible that there could be a fundamental change in the type of police service that we have."
Mr Winsor revealed that "military-style" shorter-term commissions for officers were being considered.
Further recommendations could see a change "to the structure of police careers" following a second part of the review.
He added: "So police officers would not be signing up for a guaranteed job for 30 or 35 years. They would instead be signing up for an initial term of five years."
Mr Winsor admitted the recommendations could see a change in the nature of policing, adding: "I know of no other occupation where you are guaranteed a job for 30 years."
Also giving evidence, Paul McKeever, chairman of the Police Federation of England and Wales, told the committee that officers did not want the right to strike - which is currently outlawed.
However, under a "worst-case scenario", the cuts could see losses to police budgets of up to £600m, he argued, saying: "There will be unintentional consequences and we know it."
Mr McKeever will lead thousands of police officers, angry over spending cuts, on a day of action.
Representatives from every force are expected to gather at Methodist Central Hall in Westminster on 13 July before a two-hour lobbying event with politicians.