Mobile firms did not contact alleged hacking victims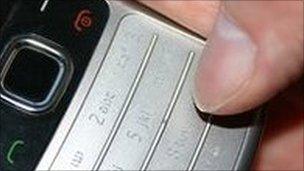 Two leading mobile phone networks have admitted that they did not contact more than 80 of their customers to warn them their phones may have been hacked into.
Vodafone and Orange/T-Mobile told MPs the police had not asked them to do so and they were worried about prejudicing the inquiry conducted at the time.
They also said the police did not respond to a request for guidance after the case was reopened in January.
Several public figures are taking civil action against the News of the World.
Four alleged victims of phone hacking have already reached out-of-court settlements with the newspaper.
Earlier this month, it agreed to pay actress Sienna Miller £100,000 damages and costs and apologised for the "harassment and distress" it had caused by illegally accessing messages left on her phone.
The Metropolitan Police reopened their inquiry in January into claims that staff at the newspaper had hacked into the phone messages of public figures, including a number of MPs, following criticism of their previous investigation dating back to 2006.
Several of those alleged to have been targeted, including former deputy prime minister Lord Prescott, have called for a public inquiry into the episode.
Giving evidence to the Home Affairs Select Committee, representatives from leading phone companies were asked about the earlier police investigation and what they had done upon learning that their customers may have had their messages hacked into.
The head of fraud prevention at Vodafone, the UK's biggest mobile phone network, said it had written to customers in general to remind them of the importance of voicemail security but had not contacted the 40 customers on its network thought to be potential victims.
"We worked closely with the Metropolitan Police and, as in all cases, so as not to jeopardise the police inquiry, we did not contact our customers directly," Julie Steele told MPs.
She said she had "no recollection" of the police ever asking Vodafone to inform its customers.
Everything Everywhere, the company which owns Orange UK and T-Mobile, said it had an "assumption" that it would not contact potential victims - of which there were 45 on its network - in such cases.
"We would never contact customers as part of a police investigation," James Blendis, the company's vice president of legal affairs, said. "Our understanding is that there is a serious risk of prejudicing an investigation if we take an action like that."
Mr Blendis said the operator could not be sure that the person it spoke to owned the phone as many celebrities' phones were also used by assistants and PR people.
But O2 said it had contacted about 40 of its customers which an internal investigation suggested may have been affected, believing there was an "obligation" to do so.
"We made a decision we would contact those customers and tell them the results of the investigation," Adrian Gorham, the firm's head of fraud and security, said.
"On none of the cases did ever I see any evidence they were definitely hacked. From some of the conversations with the customers, it would lead you to believe that there were reasons why people may want to get their information."
Keith Vaz, the Labour MP who chairs the committee, said there had clearly been "confusion" among the companies about how to act and they needed to learn lessons.
"Isn't this a bit of a complacent attitude?", he asked Mr Blendis. "Here you find out your customers have been hacked, the police have told you they have been hacked, and your company does absolutely nothing."
The Vodafone and Everything Everywhere representatives also revealed they had written to the police last November, as fresh allegations of phone hacking were emerging and demands for a second inquiry mounting, to ask whether they should alert their customers of the potential risk.
"We wrote to ask what the circumstances would be when we could contact customers, how we would do that and what we would say," Mr Blendis said.
Asked what the Met's response was, he said: "We have not had a response on that."
Lib Dem MP Julian Huppert said the apparent lack of a response was "slightly alarming".
The BBC's Tom Symonds said the Met had been strongly criticised for not warning more than 100 people who may have had their voicemails intercepted by the rogue private investigator Glen Mulcaire in the middle of the last decade.
Police chose to pursue a small number of cases, despite the presence of dozens of names and private details in Mulcaire's notebooks, he added.
Scotland Yard has yet to provide a response to the phone companies' evidence.
The companies said they had all co-operated with the police but had not been told the identities of individuals who may have been affected. They all said they had toughened up their safety procedures as a result of the hacking allegations.