Minister denies fuelling tabloid attacks on 'workshy'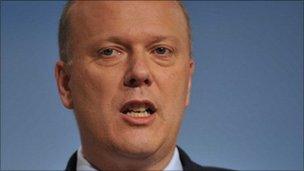 Employment Minister Chris Grayling has denied claims the government had helped fuel press coverage labelling benefit claimants as "workshy".
He told MPs that tabloid stories had left him "bemused" and he had been criticised for saying people should not be judged as "scroungers".
But MPs told him there had been a "shocking" failure by ministers to sell welfare reforms as a good news story.
Labour's Glenda Jackson said it had been sold as "attacking the workshy".
Mr Grayling was giving evidence to the Work and Pensions Committee about the government's continuing efforts to move more people off incapacity benefit and its successor - Employment and Support Allowance - if they are capable of work.
The government is seeking to reassess all 2.6 million people on IB and ESA by 2014 using a test, the work capability assessment (WCA).
The WCA determines whether applicants are entitled to the highest rate of ESA - for those deemed unable to work at all due to sickness or disability - or are considered "fit for work", in which case they are put on Jobseeker's Allowance instead.
It can also place applicants into a "work-related activity group", where they will be expected to take steps to prepare themselves for work in the medium to long term.
Mr Grayling said that many people had been effectively abandoned on benefits and the aim of the WCA was to identify those who could return to work.
He stressed that those who could not work due to disability had nothing to fear: "This is not about forcing people who can't work into work."
But he was challenged about press releases from the Department for Work and Pensions - and media coverage of the reforms which suggested many of those on incapacity benefit were "workshy".
Ms Jackson asked him: "Why has the government sold this programme, or attempted to sell this programme, as attacking the workshy?... This has had a very serious impact on people out there."
Lib Dem MP Stephen Lloyd told Mr Grayling that he was supportive of the welfare reforms, but added: "I, however, think that the government has singularly failed with the tabloids, with the media and with the message getting out."
They were particularly critical of media coverage of WCA pilots in Burnley and Aberdeen.
Committee chairman Dame Anne Begg said the DWP press release had stated that 70% of claimants "could work" - without stressing that 30% were eligible for Jobseekers Allowance and would require extra help to get ready for work and 40% "might be fit for work some time in the future - if they get better".
And Mr Lloyd said there were still examples of ministers using the wrong language when describing the reforms.
He said the government was not "getting out and selling this for what it is - which is a once-in-a-lifetime positive opportunity to transform the lives of many disabled people - I think it's been shocking."
Mr Grayling said neither he, nor Work and Pensions Secretary Iain Duncan Smith, had used disparaging terms such as "scroungers" .
"We as ministers in the Department for Work and Pensions go out of our way to set out what we are doing in the context of helping people... and we don't use some of the language that has been used on some outlets."
He said he had gone to some lengths to stress the positive aspects of the plan - writing articles for newspapers, letters to local newspapers, webchats and meetings with voluntary groups and Jobcentre teams.
But he said: "I make no bones about it - I don't control... the editorial tone of the newspapers."
He said he had advised "a number of media outlets" about the need for careful language but said some stories the department considered insignificant had shot to the top of the tabloid news agenda.
"Sometimes stories run in a way that completely bemuse me," he said.
He added he had been personally criticised for being too careful in his language: "I was accused of 'watering down' our approach on welfare reform because I made the point it was important not to judge people as 'scroungers'."
Mr Grayling said while there were "clearly some people who are claiming incapacity benefit who are frankly, fit to work" the majority of those who could eventually return to work were still "a long way away from the work place" and would need much extra support to get back there.
"The challenge for us, through the assessment process, is to re-energise those people and focus them on the things they can do."
But he also said there was a "duty on the party of representative groups" - like charities - not to use "strong language" which could exacerbate concerns.
He said that he hoped that as the welfare reforms began to take effect, there would be more positive "role models" of people who had been long-term unemployed and had got back into work, who could help ease concerns among others.
Related Internet Links
The BBC is not responsible for the content of external sites.