Decision Time: The tax avoidance issue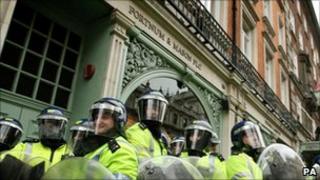 With the country facing a squeeze, with tax rising and spending being cut, the demand that companies and the rich should pay what they owe grows louder and louder.
You don't have to be one of those who occupied Topshop or Fortnum and Mason to wonder why the taxman can't get his hands on billions of pounds shielded by offshore schemes and onshore wheezes.
But on the other hand, you may worry whether Britain really can afford to increase the taxes paid by those who create wealth and jobs and who are, after all, minimising their tax bills quite legally.
Could the final cost of a crackdown on tax avoidance be higher than the bill of letting it go on?
A new series of Decision Time on Radio 4 examines decisions that could face any government at this time - whatever its political colour, and examines how and whether an idea might make its way through the corridors of Whitehall and the chambers of Westminster.
Tonight, a former head of the Inland Revenue, a campaigner against tax avoidance and a champion of business discuss whether ministers could and should tackle tax avoidance.
The programme commissioned a poll on the subject which reveals that in general, people (84%) think that the government should crack down on tax avoidance in the UK.
Even if this causes unemployment or companies to leave the UK, the majority (60%) still believe the government should crack down on this practice.
However, opinion is split over the role of companies in minimising tax, through lawful means, in order to maximise returns to their stakeholders - highlighting the tension that tax avoidance brings for companies.
Decision Time is on BBC Radio 4 at 2000 GMT and will available online after broadcast.