MPs horrified at Syrian children's deaths, says Hague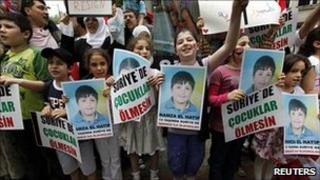 William Hague said MPs were "horrified" at the reported deaths of children in Syria - as the uprising against President Bashar al-Assad continues.
The UK Foreign Secretary said President Assad was losing legitimacy and should "reform or step aside".
He said the UK was pushing for more UN sanctions on Syria and said Britons in Yemen should leave "immediately".
The Syrian government says 120 security personnel were killed in the town of Jisr al-Shughour.
Mr Hague was addressing MPs about developments in the Middle East and North Africa.
He condemned regimes who suppressed peaceful protest and said scores of people had been killed in Syria over the weekend after tens of thousands of people had taken to the streets.
President Assad is fighting off the greatest challenge to four decades of rule by the Assad family in Syria. Protests, which began in March inspired by uprisings in Tunisia and Egypt, have reportedly left hundreds dead, hundreds more injured and thousands under arrest.
Mr Hague said: "Members on all sides will have been horrified by the killing of many children and the death of 13-year-old Hamza al-Khatib who was allegedly tortured.
"The regime is using live fire against protesters and blocking UN efforts to get help to those in need."
UN resolution
The UN Children's Fund (Unicef) has highlighted the death of at least 30 young people so far in Syria since the protest began - and Hamza al-Khatib has emerged as the unofficial icon of the revolution.
Activists say he was tortured to death by security forces - something the Syrian authorities have denied.
He called for restraint following the reported killings in Jisr al-Shughour, near the Turkish border, where residents are reported to be fleeing in anticipation of a full military assault.
Some EU sanctions had been brought into force against Syrian officials, including President Assad, but the UK was consulting with other European countries about the potential for further sanctions, if violence continues.
And he said the UK was backing a draft UN Security Council resolution condemning the repression and calling on the government to meet protesters' "legitimate demands" and release "prisoners of conscience", and co-operate with the UN's human rights commissioner.
"We are working to persuade other countries that the Security Council has a responsibility to speak out. President Assad is losing legitimacy and should reform or step aside."
France says it is ready to ask the UN Security Council to vote on the draft resolution condemning Damascus, despite a likely Russian veto.
Foreign Minister Alain Juppe said Paris believed that strong support in the 15-member council might persuade the Russians "to change their mind".
The draft resolution was drawn up by France, Britain, Germany and Portugal. The document condemns violence at the hands of the regime of President Assad and asks him to open Syrian cities to humanitarian teams.
Mr Hague also discussed the situation in Libya and said Colonel Muammar Gaddafi's regime was "isolated and on the defensive", having been abandoned by a number of senior military officers.
He also said allied forces had "increased the tempo" of air strikes, which were taking place at a rate of around 50 strike missions per day.