Plans for public land sell-offs for housing development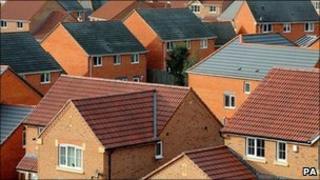 Proposals to sell-off large tracts of publicly owned land for housing have been announced by the government.
Ministers said the plans could create up to 100,000 homes and 25,000 jobs during the next four years.
Locations include a former hospital at Fairmile in Oxfordshire, New Covent Garden Market, south London, and three Ministry of Defence sites in Bath.
Labour said the announcement was "unlikely to address the shortage of affordable homes across the country".
Developers' deal
The Public Expenditure Committee, chaired by Cabinet Office Minister Francis Maude, will trawl government departments to identify more suitable land.
The Department for Communities and Local Government (DCLG) said Whitehall property specialists would work with each department to try to release as much land as possible.
Local councils will also be encouraged to make their unused land available for development.
The DCLG has outlined a "build now, pay later" deal, through which developers pay for the land only once building work has started.
Departments have been told to publish their plans by the autumn.
Redevelopment has already started at Fairmile, a 40-hectare site which was owned by the Homes and Communities Agency next to the River Thames in Cholsey.
New Covent Garden Market is a 57-acre site, part of the Nine Elms Opportunity Area, in the borough of Wandsworth.
The Ministry of Defence sites at Foxhill, Warminster Road and Ensleigh in Bath are freed-up offices totalling an area of 36 hectares.
'Ambitious challenge'
Housing Minister Grant Shapps said: "As one of the country's biggest landlords, the government has a critical role to play in making sites available for developers so we can get the homes this country needs built.
"I can confirm an ambitious challenge across government to release enough land from Whitehall's grip for 100,000 new homes across the country.
"Over the coming months, property specialists will work to make sure no stone is left unturned and no site is left unused, and every department's plans will come under the close scrutiny of a cabinet committee."
He added: "It is now for developers to come forward, make the most of this unique opportunity and help contribute to our countrywide efforts to help get the homes this country needs built."
Later this year, a map will be launched showing the land and buildings owned by public bodies.
A "community right to reclaim land" was introduced earlier this year allowing people to apply to organisations, including central and local government, to bring sites back into use.
'Housing need'
Shadow housing minister Alison Seabeck said: "If this is simply about selling land at market prices with no conditions there is a real danger it won't work.
"We need more affordable housing in this country, but with recent figures showing a further fall in new housing projects it's clear the Tory-led government has no workable plan to deliver them."
She added: "There will be questions about where this land will be, and whether it will be in areas where people want to live or where there is a need for new housing.
"And less than a year after the government cut funding for new affordable housing by 60%, it is unclear whether these homes will be affordable to young working families who want somewhere of their own to live."
The Home Builders Federation (HBF) welcomed the announcement as a "first step towards increasing desperately needed housing supply".
HBF executive chairman Stewart Baseley said: "Alongside the lack of mortgage availability, a lack of viable, developable land with planning permission has been the most significant long term constraint on housing supply.
"Increasing housing supply will tackle our housing crisis and create thousands of jobs, providing huge social and economic benefits across the country."
The Town and Country Planning Association estimated government and council land was worth about £10bn, and raised concern it would be sold to the highest bidder rather than to developers who could deliver a large amount of high-quality social housing.