Jobcentre workers use fake names over security fears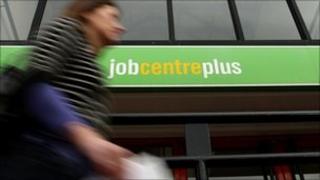 Some Jobcentre Plus staff use false names on their ID badges to protect their identities, the Department for Work and Pensions has revealed.
The department said workers were allowed to use "office names" agreed with their managers.
Officials said the option was open to "customer-facing staff where an individual's safety or wellbeing is demonstrably at risk".
The revelation came in response to a Freedom of Information request.
Staff at the Pension Disability and Carers Service and those carrying out fraud investigations were also allowed to use pseudonyms, the DWP said.
The department said its policy on false names was introduced in April 2002 after consultation with trade unions.
It is not the only government department to keep the identity of its staff from the public in some cases.
A Home Office spokesman said: "In a small number of cases where there are particular security considerations, we may use a pseudonym when responding to correspondence."
Last month, Prime Minister David Cameron announced Downing Street letters would no longer be signed with fake names.
The policy was changed after Labour MP Sir Gerald Kaufman complained about receiving a letter from a "Mrs E Adams", only to be told it was a computer-generated pseudonym.
Number 10 officials began using false names in 2005 after a staff member was contacted and threatened by a member of the public.