Social housing spare rooms a luxury - welfare minister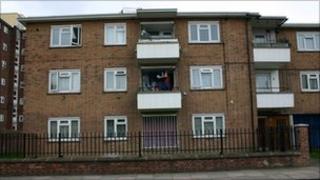 Spare bedrooms for people in social housing are a luxury the country can no longer afford, a minister has said.
Tenants with spare rooms will lose £11 a week in housing benefit under changes going through Parliament.
Welfare Reform Minister Lord Freud told BBC Radio 4's You and Yours the cuts were needed as the housing benefit bill was "out of control".
But the policy depends on moving families into smaller homes and critics say there are not enough available.
'Very unfair'
Asked by You and Yours presenter Julian Worricker, if a spare bedroom should be regarded as a "luxury" for those in social housing, Lord Freud said: "Exactly - we have got a housing benefit expenditure that is simply out of control.
"It's very unfair for taxpayers to have to fund people to live in property that's larger than they can afford themselves.
"And also that means that people don't make the same choices, and are faced with those choices, that they would if they were non benefit recipients."
According to the Welfare Reform Bill, those currently living in social housing with one spare room can expect to lose £11 a week while those with two or more extra rooms may lose around £20 a week.
The proposals aim to address the shortage of social housing by matching families to the right size of accommodation but critics argue that there simply aren't enough smaller properties available.
Figures from the National Housing Federation suggest that around 180,000 social tenants in England are "under-occupying" two-bedroom homes, but just 68,000 one-bedroom social homes became available for letting in a single year.
The legislation will affect England, Scotland and Wales and is expected to come into force in April 2013.