Outsourcing plans shelved at 'trailblazing' council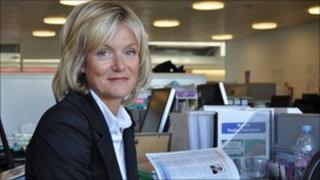 As part of his Big Society vision, David Cameron wants councils to reconsider whether someone else - charity, company, community group - could run their services better. But one place that took that idea and ran with it, Suffolk, is now in turmoil and its controversial chief executive is facing disciplinary proceedings.
Suffolk County Council had hoped to be a trailblazer. Its plan to outsource services went further than almost any other local authority in the country.
Dubbed the new "New Strategic Direction" - the policy was supposed to save tens of millions of pounds and usher in a new efficient era of service provision.
The Conservative-controlled council looked at everything from libraries to school crossing patrols to care homes. In every area the question was asked - does the council need to provide this? Could someone else do it more effectively, and provide better value for money?
But the council has been in disarray. The "New Strategic Direction" title has officially been dropped and plans for radical outsourcing of services are back on the drawing board.
On Friday, a disciplinary committee will meet to consider the future of chief executive Andrea Hill.
She has been on extended leave during an investigation which followed complaints by whistle-blowers, and the death of a senior colleague.
Whatever the committee decides, she's been right at the heart of a dramatic political story which could have implications for the way councils across the country are trying to save money.
'Too quickly'
The new Conservative council leader Mark Bee says he wants to steady the ship after the tumultuous events of recent months. As soon as he took over last week, he ordered a policy rethink.
He told the BBC he intends to be much more pragmatic, and much less dogmatic.
"As we explored it [the New Strategic Direction], and tried to implement it, we saw the difficulties," he said.
"We tried to do things too quickly. You have to try to help people take on services at a pace that is more realistic."
The implication seems to be that the transition from council service provision to a Big Society vision is challenging.
The need to save money and find efficiencies hasn't gone away. Nor have many of the policy ideas. But the message coming from local leaders is that, if you want to implement a radical plan, you have to take the people with you.
What has made this story so politically charged is the fact that the outsourcing programme was being attempted at a time of mounting media interest in the chief executive asked to implement it.
Andrea Hill was hired on a salary of £218,000. She decided to forgo two possible pay increases, but, despite pressure from Communities Secretary Eric Pickles, she refused to take a pay cut. This was at a time when all councils were seeing their funding squeezed, and were urgently looking for savings.
Throughout the saga, she has been defended by the Association of Local Authority Chief Executives. It describes her as a "first-class executive". She is said to believe there is no substance in the allegations against her - which haven't yet been made public - and is keen to get back to work.
'Impress ministers'
There was a tragic development in April. David White, a senior legal officer with 20 years experience at the council, was found dead in woods not far from Ipswich. Suicide was suspected.
Paul Geater, local government correspondent for the East Anglian Daily Times, says some of the whistleblower allegations appeared to come from the department where Mr White worked.
But before that sad event, he said rumours where already swirling around the council's headquarters.
"I think our readers were getting concerned the way the council was heading. There was feeling that sometimes things were done to impress ministers in London, or think tanks, but it wasn't relating well to the people here."
Dr Dan Poulter, Conservative MP for Central Suffolk and North Ipswich, has called for the chief executive to resign.
"I think many residents will be delighted to see Andrea Hill leave" he said. "She has appeared arrogant and remote from the people."
Ms Hill has so far displayed no desire to quit - but councils across the country are watching to see how this unfolds.