Government ticket allocation for 2012 Games questioned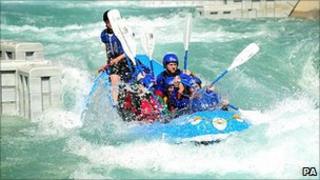 The government is being urged to explain why it has bought 9,000 tickets for the 2012 Olympics in London.
Labour MP Ian Austin is pressing ministers to clarify who will receive the tickets and for what events.
Officials said 3,000 people who had helped in staging 2012 would pay face value for the tickets while others would go to dignitaries and VIPs as part of efforts to "showcase" the UK.
The allocation is separate from the 6.6 million tickets on offer to the public.
More than 20 million applications have been received for these public tickets.
Most successful applicants will have money debited from their accounts by midnight on 31 May but will have to wait until as late as 24 June to find out which events they will be seeing.
Range of tickets
Among the 8.8 million tickets available for the Games, about 2.2 million are not on sale to the public but are being split between sponsors, the International Olympic Committee, guests and hospitality partners as well as National Olympic Committees.
The UK government has "bid for" 9,000 tickets from this pool at a range of prices and for a range of sports.
Of these, 3,000 are set to go to civil servants and officials "heavily involved" in the Games bid and preparations - those eligible were able to apply for two tickets each through a separate ballot.
The remaining 6,000 are set to be given to political and business leaders, both from home and abroad, as well as other VIPs with a close connection to the Games.
Mr Austin, MP for Dudley North, said he was seeking "clarification" on who would get the tickets from this allocation, for what events and how much they would cost.
"I am simply asking the government to set out the number of tickets they have been allocated and on what basis," he told the BBC.
'Not freebies'
The Department for Culture, Media and Sport said the government's allocation equated to less than 0.1% of the total tickets available for the Games.
"London 2012 gives us a fantastic opportunity to showcase and promote UK Plc and the majority of these tickets will be used to invite and accompany a number of international influencers, dignitaries and business leaders to the benefit of the country," a spokeswoman said.
"Some of the tickets bid for will be made available to officials heavily involved in the London 2012 project, but these will be paid for by them, at face value, and are not freebies at the taxpayers expense."
The London 2012 Organising Committee (Locog) said the tickets purchased by the government were totally separate from those available to the public.
"The government, the London Mayor and councils are major stakeholders in hosting the games," a spokeswoman said. "We have given them the opportunity to buy a small number of tickets at normal prices in the same way sponsors would."
London 2012 is looking to make £500m from ticket sales as part of a bid to raise £2bn through private means.