Cameron defies Clegg over Lord Ashcroft defence job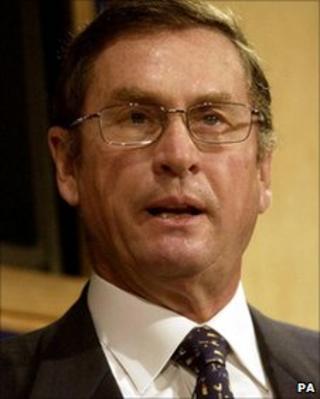 David Cameron gave a government advisory post to Conservative donor Lord Ashcroft despite objections from Nick Clegg, the BBC understands.
The peer and former Tory deputy chairman will lead a review of the UK's military bases in Cyprus.
But he has come under fire from Labour and Lib Dem MPs, including the deputy prime minister, over his tax status.
A source said Mr Clegg made it clear he was "not keen" on the appointment, but the prime minister chose to go ahead.
In a statement, Defence Secretary Liam Fox confirmed that Lord Ashcroft would undertake the role of senior independent advisor to the review of the Cyprus bases.
He will work alongside Conservative MP and former Army officer Patrick Mercer.
Government sources say Lord Ashcroft's appointment is unpaid, short term and advisory only. The study, due to be completed by the end of 2011, is part of the strategic defence review.
More than 3,000 UK personnel are stationed in two bases, Akrotiri and Dhekelia, on the Mediterranean island.
'To the wall'
In the run up to last year's general election, Lord Ashcroft was the subject of fierce criticism from Mr Clegg.
The future deputy PM said it was "wholly wrong" that someone "seeking to influence the outcome of the general election" sought to pay taxes "only partially" in the UK.
The peer confirmed in March that he did have so-called "non-dom" status, but later renounced it in order to keep his seat in the Lords.
A non-dom is someone who is resident in the UK but not domiciled in the UK for tax purposes - although they will pay some UK tax, they will not be fully taxed in the UK on their interests overseas.
Following the announcement of Lord Ashcroft's appointment, a senior Liberal Democrat source told the BBC: "We knew about it, but we were not keen.
"The prime minister made it clear he really wanted to do this, but it was not the appointment we would have made.
"You cannot go to the wall on every single appointment, but we made it clear we were not keen."
Lord Ashcroft has donated more than £4m to the party in recent years, much of which has been spent on campaigns by Tory candidates in marginal seats.
There had been speculation for a number of years that he was a "non-dom", but both he and the Conservatives had previously refused to clarify the matter.
He was appointed a peer in 2000 by then Conservative leader William Hague.
'Sinister'
Lord Ashcroft has longstanding connections with the military and was heavily involved in the Imperial War Museum.
He also owns the world's largest collection of Victoria Crosses - Britain's highest military honour.
But BBC News Channel's chief political correspondent Laura Kuenssberg said his appointment would inevitably be controversial, particularly among Liberal Democrat MPs, many of whom are now in government.
One of those angry at the decision was Lord Oakeshott, former Lib Dem Treasury spokesman in the Lords.
"Even [President] Obama's visit cant hide this sinister news, which Liberal Democrats will find deeply offensive," he told the BBC.
"Lord Ashcroft's qualifications for this task are his collection of old Victoria Crosses, years of private plane and yacht rides with William Hague, and a decade of vast Tory donations as a secret non dom.
"The government has still not brought in the simple order needed to ban non-dom donations to political parties under the 2009 Political Parties and Elections Act. The Queen's Speech promised to remove big money from politics, not reward big donors.
"What on earth is his hold over Cameron and Hague?"
For Labour, Shadow Defence Secretary Jim Murphy said: "People will be surprised that such a contentious and controversial character has been put in charge of something as strategically important as British bases in Cyprus.
"The Tories' major donor should not write government policy. Many in the Armed Forces will be bewildered by this decision.
"There needs to be ministerial involvement in this. Military expertise, not the self interest of the coalition parties, must drive the study."
The strategic defence review was announced by the government in October 2010 and set out ways to cut defence spending by 8% over four years.
Among the plans was a commitment to bring home some 20,000 UK personnel currently stationed in Germany by 2020.
The bases in Cyprus are used to give the UK a foothold at a strategic point in the Mediterranean, and the MoD describes RAF Akrotiri in particular as "an important staging post for military aircraft".