Super-injunctions row: Hemming denies abusing privilege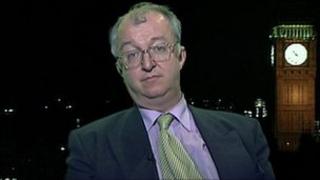 John Hemming has denied accusations that he abused parliamentary privilege by naming the footballer at the centre of a super-injunctions row.
The Lib Dem MP argued he had not used privilege at all as he could have named Ryan Giggs outside the Commons - because his name was already public.
But Labour's John Cryer suggested it had been an "act of gross opportunism by a politician on an ego trip".
MPs are protected from prosecution over statements made in Parliament.
Birmingham Yardley MP Mr Hemming named Giggs on Monday as the footballer who had used a super-injunction to hide an alleged affair.
But some of his fellow parliamentarians have questioned whether it was an appropriate use of parliamentary privilege to expose a footballer.
'Above the law'
On Tuesday Labour's Stella Creasy asked Lib Dem leader Nick Clegg: "Could the deputy prime minister update the House on discussions he has had with government and party colleagues on the circumstances in which Parliamentarians should be above the rule of law?"
Mr Clegg replied: "I don't think anyone should be above the rule of law and if we don't like the law we should act as legislators to change the law and not flout it."
Labour MP Mr Cryer went further, telling MPs on Tuesday: "I think a lot of people in [the Commons] and outside find it very difficult to to see exactly what the public interest is in naming that footballer, apart from an act of gross opportunism by a politician on an ego trip."
He asked that the Speaker "reiterate the traditional attitudes of the House towards this kind of gross abuse of privilege".
Commons Speaker John Bercow rebuked Mr Hemming on Monday, telling him that "occasions such as this are occasions for raising the issues of principle involved, not seeking to flout for whatever purpose".
But on Tuesday, Mr Hemming denied he had used parliamentary privilege at all - arguing Giggs's name was already in the public domain, having been published on the internet, and that he would not have been prosecuted for contempt of court if he had named him outside Parliament.
"Privilege is an important issue and it does need to be used responsibly," he said.
"To have abused privilege I had to use it in the first instance, no one has evidenced to me the basis upon which it would have been contempt of court for me to make the speech I made yesterday (Monday) outside the House - and if it wasn't contempt of court outside the House it can not be an abuse of privilege."
'Judge and jury'
The footballer's lawyers have also obtained a High Court order asking Twitter to reveal details of users who had revealed his identity after thousands named him.
Mr Hemming has argued it was that move which prompted him to take action on Monday.
He told MPs he had a "long term concern about secrecy in court processes", adding he was concerned that legal action had been "kicked off against users of Twitter": "Someone should not be able to hide behind anonymity to take action against others."
But he admitted he had not seen the injunction in the Giggs case - Conservative MP Adam Afriyie asked him: "Why he thinks he is the judge and jury on whether or not certain people under court order should be named in this place?"
Mr Hemming is not the only Lib Dem to reveal details of injunctions in Parliament. Last week Lord Stoneham - acting on behalf of Lord Oakshott - also revealed details of the privacy order made in the Fred Goodwin case in the House of Lords.
Conservative backbencher Peter Bone, who told BBC Radio 4's Today programme: "John Hemming has had a long history of campaigning against super injunctions and secrecy and if he feels he wants to do that then he has an absolute right - within the rules and regulations of the House of Commons."
But he noted that the Commons Speaker did "jump in and suggest he was a little more careful about what he said".
Last week the most senior judge in England and Wales, Lord Judge, questioned "whether it's a very good idea for our law makers to be flouting a court order just because they disagree with a court order, or for that matter, because they disagree with the law of privacy which Parliament has created".