Profile: Lib Dem MP John Hemming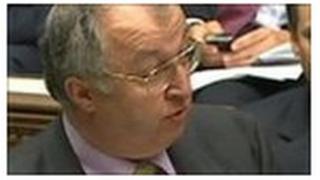 Lib Dem MP John Hemming appeared determined to make a name for himself from the moment he arrived in Parliament in 2005.
To the surprise of many, he started "taking soundings" for a leadership bid following the resignation of Charles Kennedy - despite being virtually unknown outside his Birmingham power base.
Something of a lone operator, who appears to have shunned the conventional Westminster career ladder in favour of the life of the backbench maverick, he is best known for a long-running campaign against what he claims is the over-zealous and secretive family court system.
He also grabbed early headlines when he claimed children were being taken into care to meet local authority targets.
In 2006, he turned to the judiciary himself, launching what turned out to be a failed court bid to force government ministers to answer MPs' questions.
Internet expert
In recent years, he has developed a taste for using Parliamentary privilege - the legal protection offered to MPs speaking in Parliament - to circumvent court orders.
Last month, he used privilege to name a woman involved in a child custody case who was threatened with jail for speaking to politicians.
His latest crusade - against the use of super-injunctions to gag the media - began in March when he revealed to MPs that former banker Sir Fred Goodwin had taken one out.
Few at Westminster were surprised when he followed this up on Monday by naming footballer Ryan Giggs as the man behind a widely-reported super-injunction banning the reporting of an alleged extra-marital affair.
Mr Hemming - a self-styled internet expert who claims to be fluent in eight different programming languages - told MPs: "With about 75,000 people having named Ryan Giggs on Twitter, it is obviously impracticable to imprison them all."
His actions may have won him plaudits from free speech campaigners - but there is a sense from some of his fellow MPs that he has let the side down.
'Unacceptable'
He is reported to have been ticked off by his party leader, Nick Clegg.
When quizzed about the affair in the Commons on Tuesday, the deputy prime minister said: "I don't think anyone should be above the rule of law, if we don't like the law in this place then we should act as legislators to change the law, not flout it."
Members of rival parties have been more direct in their criticism.
Labour MP Tom Harris told BBC Radio 4's PM: "It is behaviour that is unacceptable for an MP.
"Suddenly you have a self publicist like John Hemming. He has done it before. To do it this time [when] there is no justification for it whatever, he is obviously enjoying the reputation of being something of a maverick."
He was loudly accused on BBC Two's Newsnight by Lord Prescott of being on an ego trip.
But Mr Hemming is unrepentant - insisting he is standing up for free speech and the rights of those who had been threatened with the full weight of the criminal law just for "gossiping" on Twitter.
A millionaire businessman, who says he was once a candidate to be Britain's first astronaut, Mr Hemming graduated from Oxford University in 1981 with a degree in Theoretical Physics.
He went on to run a string of businesses in financial services, computing and the music industry, playing drums in a heavy metal band in his spare time.
Until 2007, he combined his role as a Lib Dem councillor in Birmingham with his job as an MP and is a former deputy leader of the city council.
His personal life has hit the headlines in recent months, after his wife, Christine, was accused of breaking into the house of his former mistress and stealing her kitten.
Mrs Hemming was charged with burglary - which she denies - and is due to stand trial next month.